I could bathe in cookie butter OR in this cookie butter pie really. It's just so wonderful. I don't have a Trader Joe's near me, but you better bet your buns that every time I go to Albany or Syracuse (New York) I hunt one down. I'm sure people think I'm insane for having 7 jars of cookie butter and 4 boxes of cookies in my cart, but I've never been one to worry too much about that.
By the way, most Trader Joe's I've been to from DC to the ones in New York have had really terrible parking lots. I think I gasped 15 times as Wesley was trying to park in the one in Albany. It was pretty sketchy. We did make it out of there without having to ram anyone, I'm not sure how since I covered my eyes and held my breath.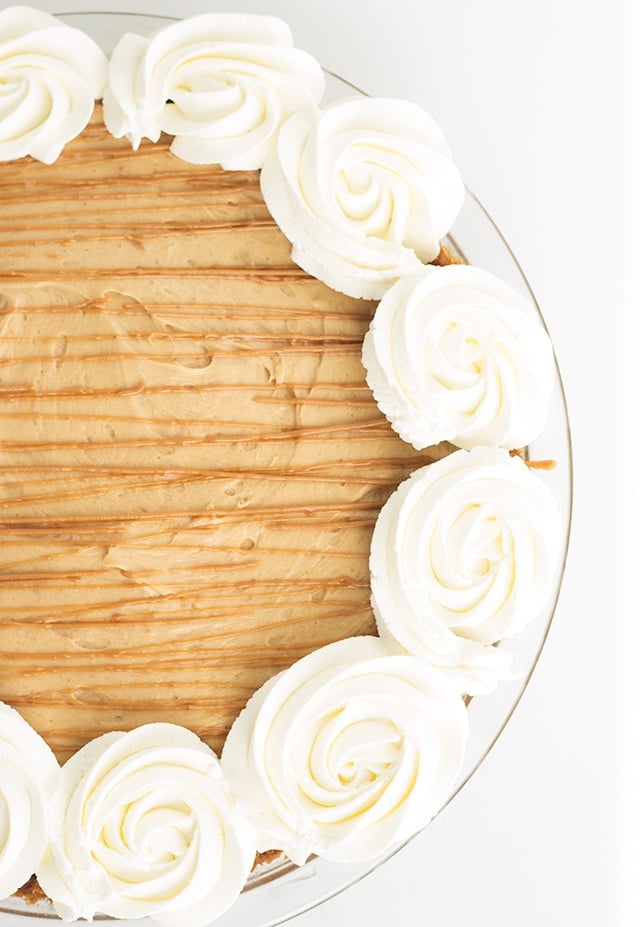 The pie is almost no bake except for that pesky crust but it's totally worth it if you're a speculoos lover like yours truly. I don't mind running the oven even in the summer, but people like my parents freak out at the very thought of it. If you're one of those, take comfort in knowing that it's only 9 minutes.
I was requested to make this pie by my hubby. He actually requested a dessert, which is so, so rare. I'm always pumping out recipes so he just eats what I make. He's such a trooper.
I've never made it before, but it's similar to my dark chocolate peanut butter pie recipe which is an adapted version of my mom's peanut butter pie recipe that I've yet to post on my blog. I will eventually, I just have so many other ideas that I haven't gotten to it. So what I'm saying is, thanks Wesley for the brilliant idea. I dig it a lot.
Cookie Butter Pie
Ingredients
Speculoos Crust
20

speculoos cookies

2

T.

granulated sugar

5

T.

butter

melted
Cookie Butter Filling
8

oz.

cream cheese

room temperature

1

cup

creamy cookie butter

1

T.

butter

room temperature

½

cup

granulated sugar

2

tsp.

vanilla extract

1

cup

heavy cream

whipped
Garnish
½

cup

heavy cream

1 ½

T.

powdered sugar

1

T.

creamy cookie butter
Instructions
Crust
Preheat oven to 375 degrees.

Add the speculoos cookies into a food processor. Pulse until a fine crumb forms. You can also place them in a storage bag and use a rolling pin to get a crumb.

In a medium bowl, add in the speculoos cookie crumbs and granulated sugar. Stir to combine.

Pour the melted butter into the crumb mixture and stir until the crumbs turn to a wet sand consistency. It should hold its shape.


Press the crumbs into a 9 inch pie plate. Place the crust in the oven and bake for 9 minutes.

Remove from the oven. If the crust has puffed up and slid down the sides of the pan, use a spoon and press the crust back up the pie plate. Be sure to do it while the crust is still very hot. Let the crust cool afterwards.
Filling
In a bowl, beat the heavy cream until it forms stiff peaks. You will know it's ready because the consistency of the heavy cream will become thick and hold its shape while you're beating it with a hand mixer. Set aside.

In a medium bowl, add in the cream cheese, smooth cookie butter, and butter. Beat on medium/high until light and fluffy.

Add in the sugar and vanilla. Beat until incorporated.

Add in a quarter of the whipped cream and fold it into the cookie butter mixture. This will lighten up the mixture.

Add in the remaining whipped cream and fold it in.

Spread it into the cooled cookie crust.
Garnish
Add the heavy cream into a bowl. Whip on medium speed until it forms soft peaks.

Add in the powdered sugar and beat until stiff peaks form.

Place in a piping bag with a 1M tip. Set aside.

Add the cookie butter into a sandwich bag. Microwave for 30 seconds until the cookie butter is at drizzle consistency.

Cut the corner out of one side of the sandwich bag. Make sure it's a small cut. Using even pressure, move your bag back and forth over top of the pie to get nice lines across the top of it.

Once the drizzle is to your liking, start piping swirls on the outside of the pie with your whipped cream.

Let chill for at least 2 hours. Cut and serve. If there are leftovers, place 4 to 5 toothpicks towards the outside of the pie and one in the center. Cover with plastic wrap. The toothpicks will help keep the plastic wrap from destroying your design. You must refrigerate this pie.
Nutrition
Calories:
613
kcal
Carbohydrates:
47
g
Protein:
6
g
Fat:
44
g
Saturated Fat:
20
g
Cholesterol:
98
mg
Sodium:
244
mg
Potassium:
97
mg
Sugar:
27
g
Vitamin A:
1075
IU
Vitamin C:
0.2
mg
Calcium:
66
mg
Iron:
0.8
mg
(Nutrition facts are an estimate and not guaranteed to be accurate. Please see a registered dietitian for special diet advice.)