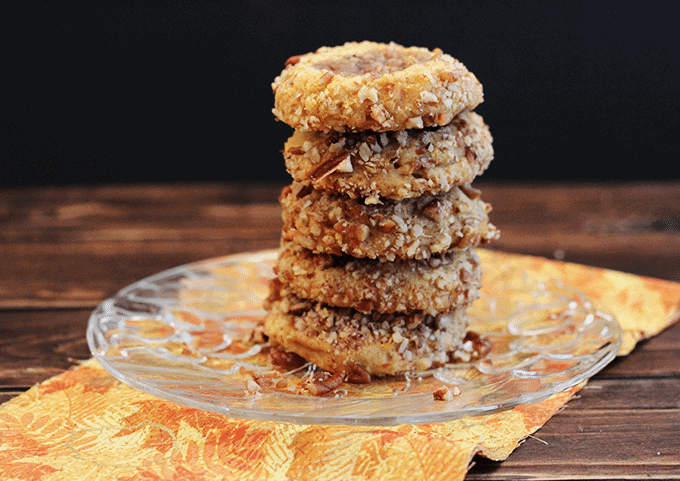 I love pecans and sweet potatoes and made this killer pecan sweet potato thumbprints. Pecans and sweet potatoes are so freaking great together. I whipped these together after Thanksgiving. We didn't have sweet potatoes at our dinner and I sure did miss them. Luckily, I stay heavily stocked in sweet potatoes. When I finished up on these cookies they were like a pumpkin pie with a pecan pie filling in the center. uhhh-mazing. I couldn't stop there. so I rolled my cookies in pecans.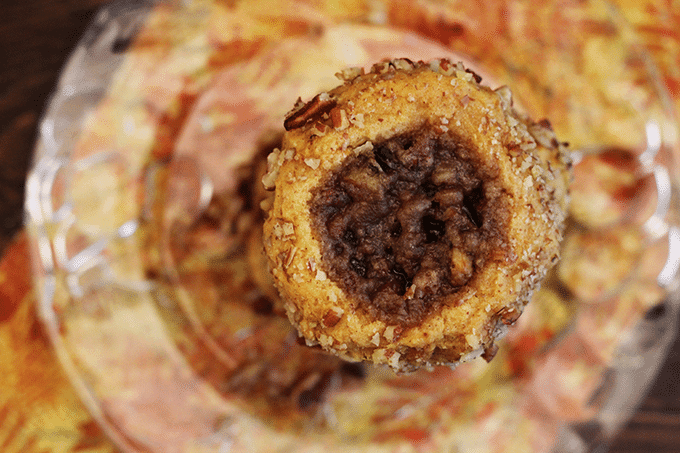 I originally was going to post this two days after Thanksgiving, but I had ended up forgetting about it. I have to admit that I always get caught up in Black Friday sales. What's up with everyone starting the sales on Thursday though? I'm not particularly loving that part. As for my hubby, he doesn't want to be a part of any of it. He thinks that it's all ridiculous. That's why he's not included on mine and my mom's adventures that weekend. He just forks over the cash and mama does the spending. He's a good man.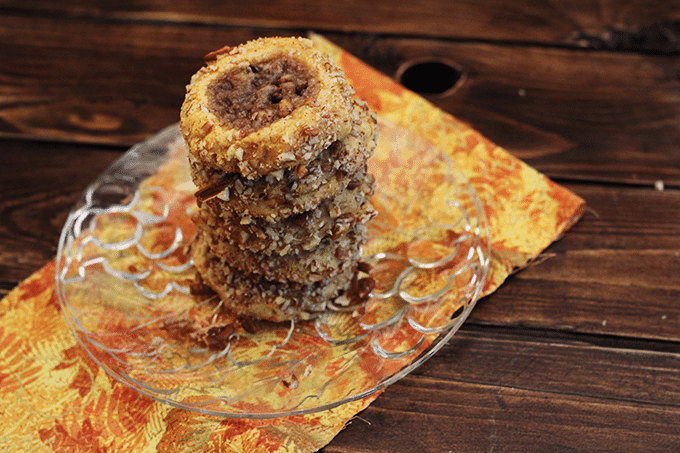 This is off the subject I was just on, but have you ever had a day where it seems that your toddler refuses to let you concentrate on anything other than holding him? Him, of course, being Lucian. I feel like I can't put two words together to even form a sentence. I've been at this post all day, trying so desperately to think and write as fast as I can. So if you're wondering why I sound a little scatter brained and left this post quite short and less sweet, I have a boy that needs my attention a.s.a.p.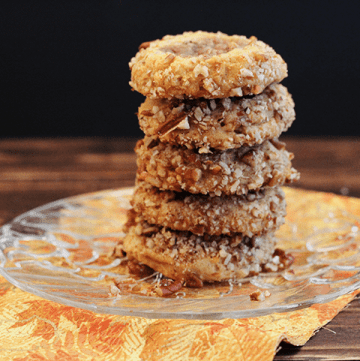 Pecan Sweet Potato Thumbprints
Instructions
Preheat oven to 350 degrees. Line a baking sheet with parchment paper.
Cookies
In a large mixing bowl, add in brown and granulated sugar, cinnamon, and nutmeg. Stir together so the spices do not clump.

Add in the butter and mix on medium until light and fluffy.

Add in the sweet potato and mix until thoroughly incorporated.

Add in the eggs and vanilla and continue to mix on medium until combined.

In a medium bowl, sift the flour and baking powder. Pour into the wet ingredients and mix on low until completely combined. The dough will be very thick.

Using a cookie scoop, scoop out dough and place on the prepared baking sheet.

Place the pecans for garnish on a plate. Hold each dough ball and sprinkle pecans over top.

Using a floured bottom of a medicine cup or a finger or a spoon, make a print in the center of the cookie big enough to place the filling. I used the medicine cup because that's what I had handy. I just floured the bottom of it after each use so the cookie didn't stick to the cup.
Filling
In a medium bowl, add in the melted butter, vanilla, and brown sugar. Mix until combined. Add in the pecans and stir. The filling will become thick like a paste.

Place a spoonful of filling into each cookie. Be careful not to overfill the cookies otherwise the filling will bubble over.

Place in the oven and bake for 15 minutes or until done.
Nutrition
Calories:
223
kcal
Carbohydrates:
29
g
Protein:
2
g
Fat:
11
g
Saturated Fat:
5
g
Cholesterol:
27
mg
Sodium:
74
mg
Potassium:
90
mg
Fiber:
1
g
Sugar:
17
g
Vitamin A:
1205
IU
Vitamin C:
0.2
mg
Calcium:
28
mg
Iron:
0.9
mg
(Nutrition facts are an estimate and not guaranteed to be accurate. Please see a registered dietitian for special diet advice.)