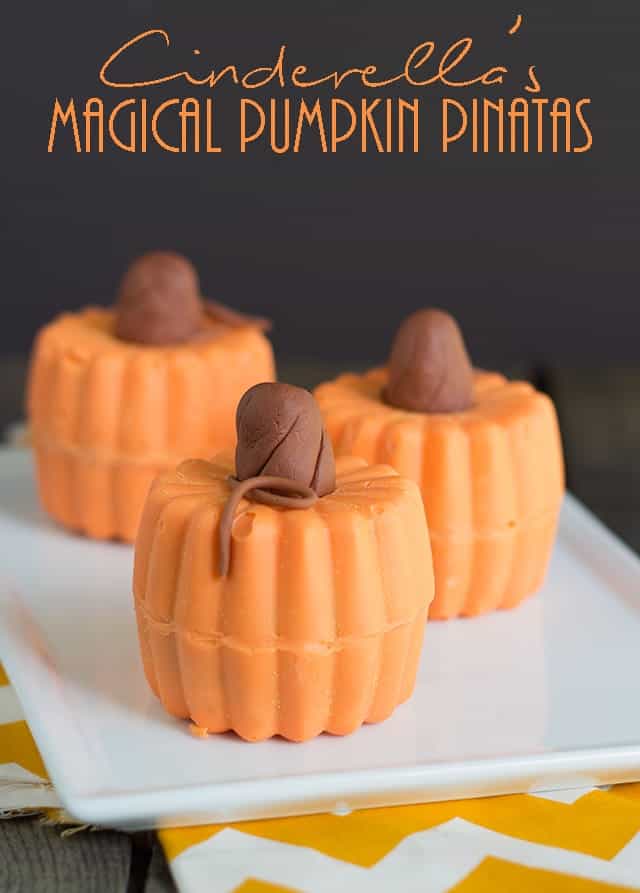 Today is the day that the movie Cinderella comes out on DVD. In honor of such an awesome movie, I made some sparkly pumpkins, Cinderella's Magical Pumpkin Pinata's to be exact. I know, there were no pinata's, but there was a pumpkin that was turned into a carriage. My fairy godmother/ beggar woman didn't show up for this one, so I was on my own.
What's a girl that's fall crazed to do without a fairy godmother? She fills her pumpkins with fall candies. As I was writing this post, I quickly realized I should have spray brushed my pumpkins gold. How awesome would that have been? Very awesome. Probably messy too.
I love the lesson that Cinderella teaches. She has courage and she's always kind. Even after all the horrible things that her stepmother did to her, in the end she forgave her. As my redneck family would say, that takes true grit.
I dusted some gold dust onto my pumpkins. I'm little disappointed it didn't add more shimmer, but that was supposed to be part of the magical part. Just imagine that the gold dust is so shimmery and awesome, please. Do it for me.
Cinderella's Magical Pumpkin Pinatas
Ingredients
2

cups

orange candy melts

½

cup

candy corn

½

cup

fall M&M's

½

cup

pecan pie M&M's

3

T.

fall sprinkles

3

T.

fondant

1 - 4

drops of chocolate brown gel paste color
Instructions
Melt the candy melts in a glass microwave-safe bowl for 30 seconds. Stir. Repeat microwaving and stirring another two times.

Using a small silicone bundt pan, coat the inside well with the melted orange candy melts. Give the silicone pan a tap on the counter to get out the bubbles. Make sure the edges are clean and there are no jagged edges.

Place in the fridge to set up for about 10 minutes.

Make sure there are no weak spots or super thin spots in the shell. If there are, place some more chocolate in the thin spot. It will set quickly since the mold will be chilled.

If the chocolate doesn't peel off easy, place it back in the fridge because it's not set completely. Leave it for aother 5 minutes.

Repeat making another 5 bundt pan shells. This will make a total of 3 pumpkins.

Place a mixture of the candy corn, M&M's and sprinkles into one side of the pumpkin. Repeat with two more.

Place the tops on each of the pumpkins.

Heat up the remaining orange candy melts that you didn't use up.

Place the candy melts into a sandwich bag.

Pipe the candy melts into any gaps and along the two seams. Run your clean finger along the seam to clean off any excess melt. Wipe off on a towl. Repeat with the two remaining pumpkins.

Knead 1-2 drops of chocolate brown gel paste into white fondant. Once completely kneaded, if you would like more color, add another 1 - 2 drops and knead until fully incorporated.

Roll the 3 pieces into an oblong shape. Cut 4 - 5 lines long ways down it. Give the nub a twist and place on the pumpkin. Repeat with two more.

Roll out super thin vines with the fondant. Wrap it around the stem and give it a curl.
Nutrition
Calories:
786
kcal
Carbohydrates:
114
g
Protein:
3
g
Fat:
34
g
Saturated Fat:
26
g
Cholesterol:
10
mg
Sodium:
193
mg
Fiber:
1
g
Sugar:
108
g
Vitamin A:
155
IU
Calcium:
80
mg
Iron:
0.8
mg
(Nutrition facts are an estimate and not guaranteed to be accurate. Please see a registered dietitian for special diet advice.)
If you're wondering where I got my small silicone bundt pan, it was out of the August My Bakers Box. Check out my easy apple butter cake pop post to see more of the box and get $5.00 off using the promo code COOKIE DOUGH. It's not an affiliate link, just a little discount for my people. 🙂
Because I love Cinderella so much, I've joined up with a few of my blogging friends to bring you even MORE Cinderella ideas!
Don't they look amazing?! Check out all of our ideas below!
Cinderella Party Ideas from The Love Nerds
Cinderella Champagne Cocktail from Living Better Together
Cinderella's Magical Pumpkin Pinatas from Cookie Dough and Oven Mitt
20 Princess Party Games from Play.Party.Pin.
Have Courage and Be Kind Printable from Simply Designing