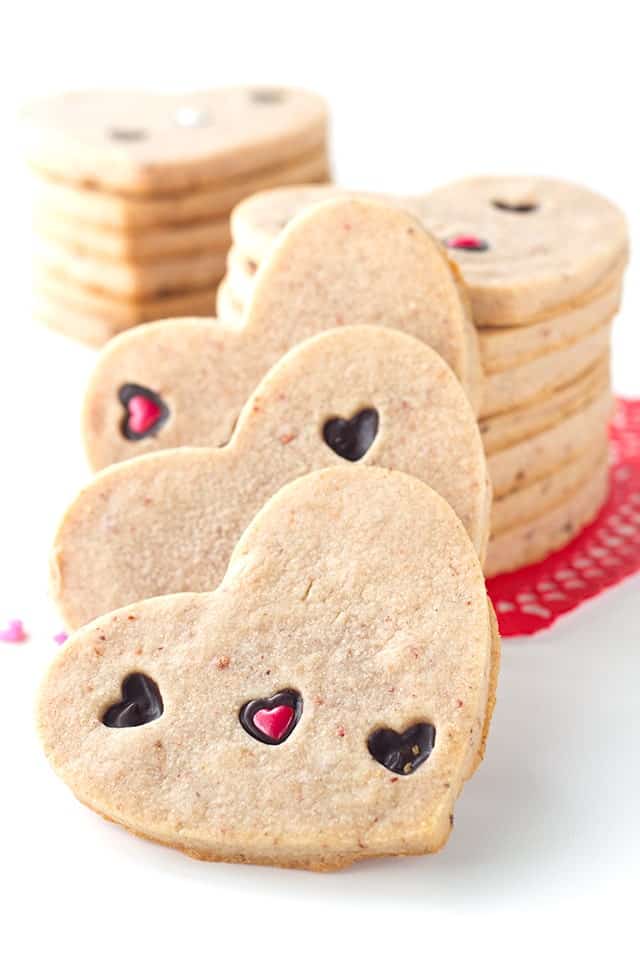 I joined some of my fellow bloggers to donate and create a recipe for Cookies for Kids' Cancer campaign. I wanted to make a french macaron recipe, but then settled on some good ol' strawberry sugar cookies. I cut out tiny hearts in the cookies and filled them with milk chocolate. I thought it was cute and was a fun little twist on a chocolate covered strawberry.
I'm constantly buying freeze dried fruit because they make a killer snack but also can be used in desserts which is neat. I turned the freeze dried strawberries into a powder and popped it into the dough. It gave it a slight pinkish tint and pretty little pink specks through the dough. The dough smells just as good as it tastes too.
I have some news, folks. Today is my wedding anniversary. I've been married for 7 years today. Where in the world has the time gone? I swear having children speeds up time. I only have one kid and things are flying by. I can't imagine having two children. I would be so busy that I would never know what day it is. Not that I'm great at keeping track now. Yesterday I thought it was Friday. Friday! Have you ever woke up thinking that it was the last work day of the week, the last day you have to get your kid around for school, and then reality hits you that it's only Thursday. Not cool, brain.
If you've been here a while, you might remember the year that I posted the most amazing red velvet cake with white chocolate frosting for my anniversary.Wesley goes crazy for red velvet. That and any sort of cookie are his favorites. He's already worked his way through half of these cookies and I just finished this yesterday morning.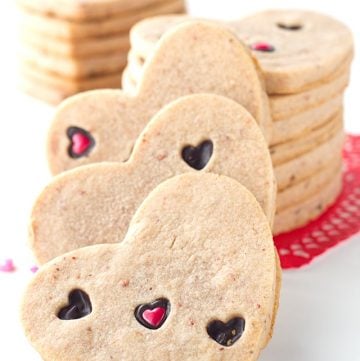 Strawberry Sugar Cookies
Ingredients
1 ½

cups

salted butter

room temperature

1 ¾

cups

granulated sugar

3

T.

powdered freeze dried strawberries

.8 oz package

1

large

egg

1

T.

vanilla extract

3 ¾

cups

all-purpose flour

¼

cup

milk chocolate candy melts
Instructions
In the stand mixer, mix the butter until it's creamed.

Add in the sugar and powdered freeze dried strawberries. I added an .8 oz package of freeze dried strawberries into a food chopper and let it go until everything was a powdered. Mix on medium just until the butter and sugar come together. (The more the sugar and butter is creamed the fluffier the cookie will be.) Scrape down the sides.

Add the egg and vanilla. Turn the mixer on medium and mix until the egg is completely incorporated.

Lastly, add all the flour. You can either put a towel over your mixer until everything is incorporated or start out on the stirring setting of the mixer until the flour started to incorporated. Once the flour is mixed in some, go ahead and turn the mixer on medium and let it mix until the flour is combined with the creamed mixture.

Roll dough between two pieces of parchment paper. Place in the fridge for 2 hours or until the dough is firm. I left mine in overnight. You can also cut the cookies out and place them into the freezer for 1 hour before baking. Whichever method you prefer, will work. Just remember to separate the cookies with parchment paper so they don't stick together.

Take the top piece of parchment paper off and cut the cookies with preferred cutters. I used a 3 inch heart cutter and used a small veggie cutter the shape of a heart for the tiny hearts.

Place 6 cookies on a baking sheet lined with parchment paper. Don't let the dough get warm otherwise your cookies may spread.

Preheat the oven to 350 degrees.

Bake the cookies for 9 minutes or until the edges become golden brown. Remove them from the oven and let them cool.

Melt the milk chocolate candy melts in a glass microwave-safe bowl. Microwave in 30 second intervals and stir after each time until smooth.

Add the chocolate in a sandwich bag or piping bag. Pipe in the little hearts with chocolate while the candy is still sitting on the parchment paper. You can also sit them on wax paper to fill with chocolate. Add a heart sprinkle and let the chocolate dry completely.
Nutrition
Calories:
248
kcal
Carbohydrates:
31
g
Protein:
2
g
Fat:
12
g
Saturated Fat:
7
g
Cholesterol:
41
mg
Sodium:
110
mg
Potassium:
28
mg
Sugar:
15
g
Vitamin A:
385
IU
Calcium:
8
mg
Iron:
1
mg
(Nutrition facts are an estimate and not guaranteed to be accurate. Please see a registered dietitian for special diet advice.)
If you like these strawberry sugar cookies, you should check out my stained glass sugar cookies. They are so pretty!
.