Need a soft, tender sugar cookie recipe? These Sour Cream Sugar Cookies won't disappoint! They're sweet, fluffy, and great for holidays. They're delicious with frosting and sprinkles on top or without the frosting. Be sure to whip these cookies up for your family this Christmas.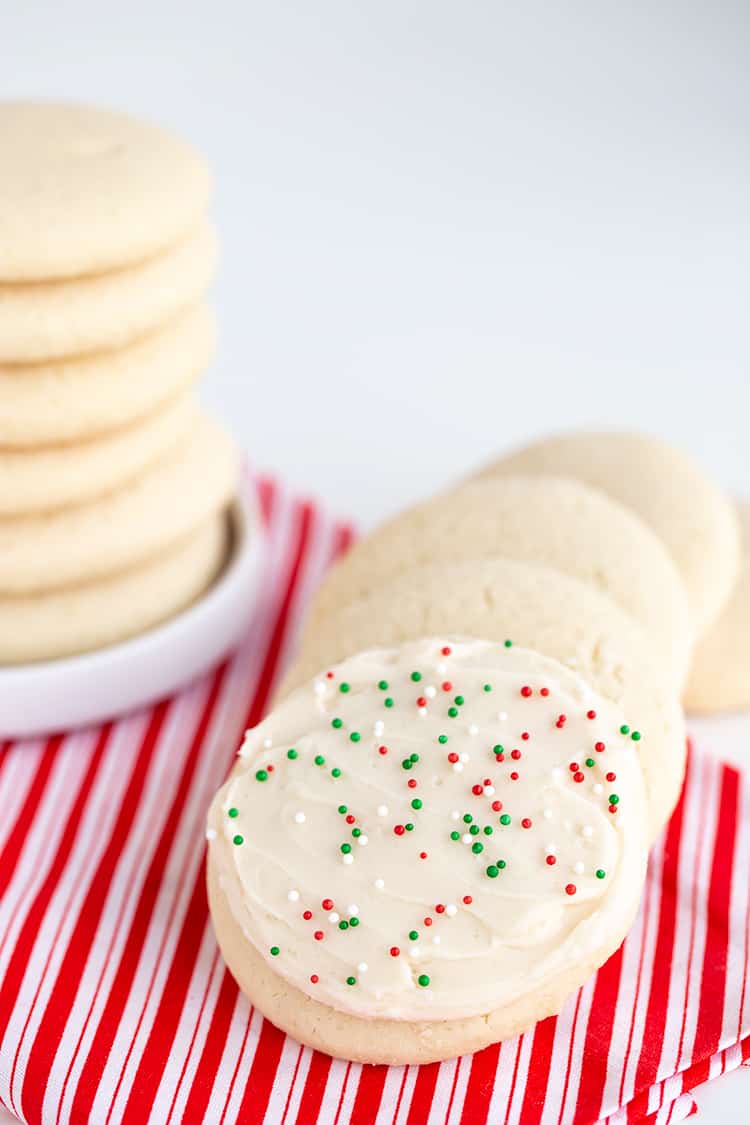 Here are a few more of my favorite cookie recipes to whip up at Christmas: Shortbread Cookies, Date Filled Cookies, Mint Chocolate Pudding Cookies, or Tiramisu Cookies.
Sugar cookies are a holiday favorite. They are delicious, festive, and can even be a fun activity for kids. When you have a great sugar cookie recipe, the possibilities are endless!
I especially love sour cream sugar cookies because they are even more tender and soft than a traditional sugar cookie. They also have a nice, subtle tangy taste that is amazing when paired with the sweetness of the cookie.
How to Make Cut Out Sugar Cookies with Sour Cream
Making sugar cookies with sour cream is very much like making traditional sugar cookies dough. You are essentially only adding one extra ingredient.
Begin by creaming the butter and sugar together until the mix is very light and fluffy. Then, add in the sour cream and beat until combined. Next, add in the eggs and vanilla. Be sure to scrape down the sides of the bowl.
Add all of the dry ingredients to the bowl and mix in using a hand mixer until a smooth, soft dough forms. The dough will be much easier to roll when it is cold so wrap it well then place it in the fridge to chill.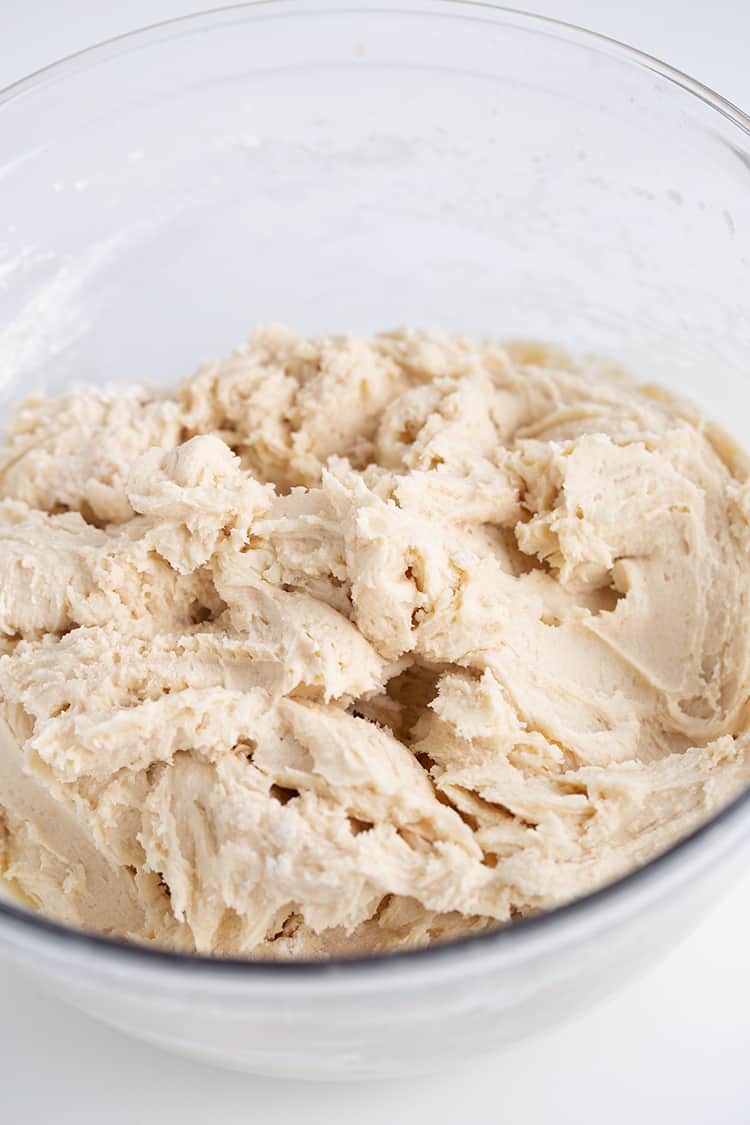 While your dough is chilling pick out your favorite cookie cutters and decide what shapes you will make! Don't pick cutters with too many details because the dough will stick in the crevices.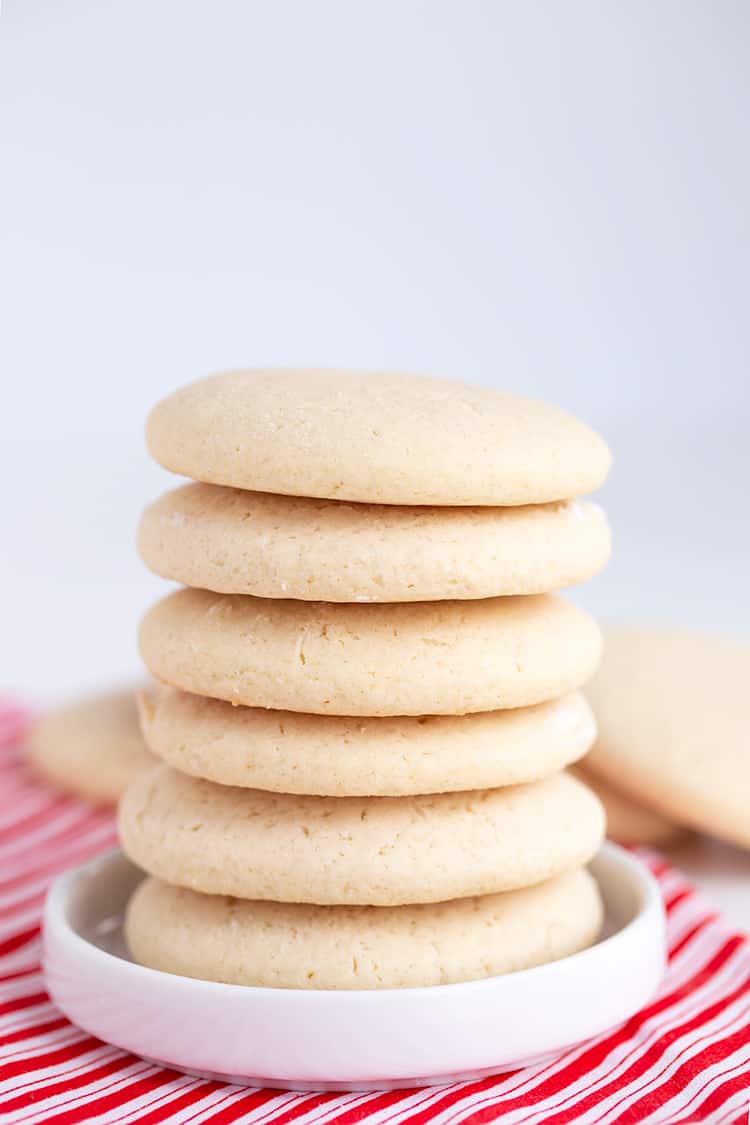 How to Cut out Sugar Cookies
Before you cut out your sugar cookies, you can chill your dough for a more manageable cookie dough or place it directly on a well-floured surface.
I've found that this sour cream sugar cookie dough bakes up the same whether it's chilled or not which is nice if you're in a hurry and want to bake the cookies immediately.
Dust your work surface with flour and don't be afraid to use a good amount. You can always brush the excess flour off of the cookies later on. The flour will prevent the cookies from sticking to the table and to the rolling pin. You also want to be sure to dust your cookie cutters well. The soft sour cream cookie dough does stick to the cutters if they aren't coated in flour! After you cut each shape, dust the cookie cutter again by simply dipping it right into the flour.
If your cookie dough does get a little stuck in the cookie cutter, use a small wooden skewer to gently poke the edges and push the cookie dough out of the cutter. Pushing the cookie dough from the cutter directly onto your lined cookie sheet works nice so you don't have to move the soft dough again!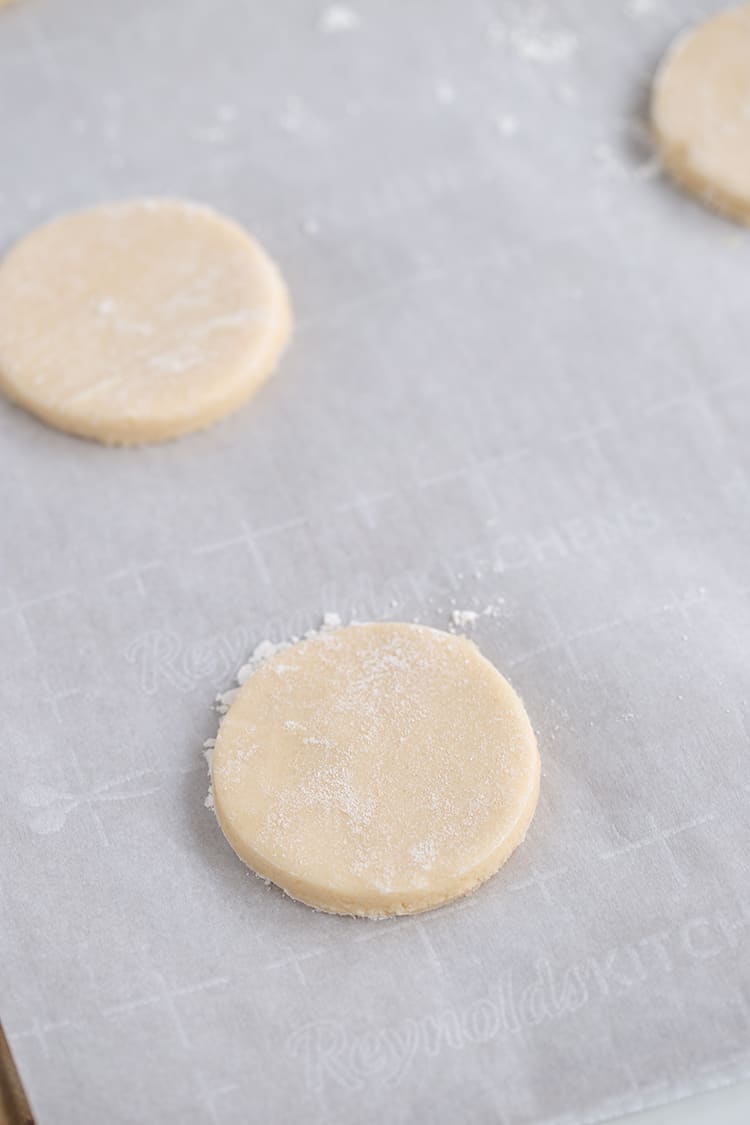 You can re-roll the sour cream cookie dough as many times as needed so don't toss those scraps! The best part is this dough can handle the extra flour being incorporated into the dough every time it's rolled back out.
You may want to chill them again before rolling as the dough gets very soft after being rolled just one time. It's always good to work in batches, rolling out one ball of cookie dough while one sits in the fridge. This way, you can always be working and getting those beautiful sour cream cookies in the oven!
How to Store Sour Cream Sugar Cookies
Once you have made your sour cream cutout cookies, let them cool completely to room temperature and then place them in an airtight container. The cookies will stay fresh for about a week.
If you choose to frost them, be sure the frosting is completely dry and crusted before stacking the cookies. You may find that the sprinkles get pushed into the frosting when the cookies are stacked though.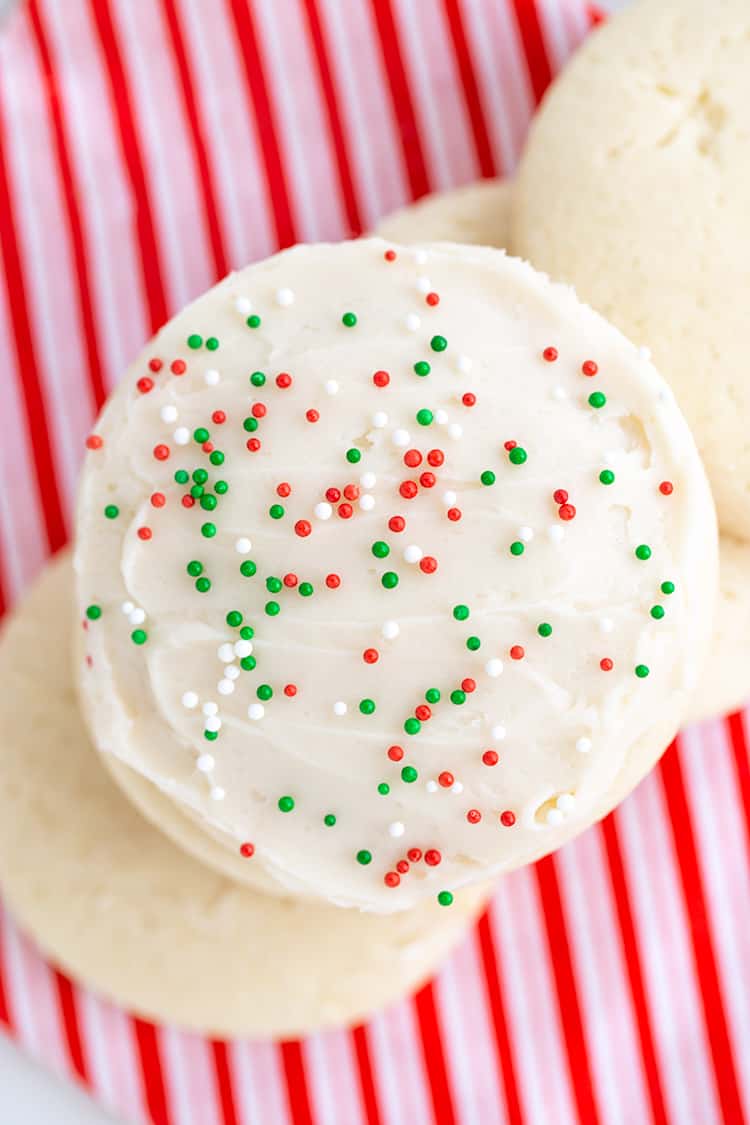 Can You Freeze Sour Cream Cookies
Freezing sour cream cookies is a great idea especially around the holiday's when you may need to pull out cookies at any moment for a pop-up party! There are two ways to freeze your sour cream cookies and both work great.
Cookie Dough- You can freeze your sour cream cookie dough in two ways- either freeze the dough in flat discs or as cut out cookies. Make the dough completely, roll it into a ball then flatten it into a 2 inch thick disc. Wrap it well in plastic wrap, going around the dough a few times. Freeze the dough for up to two months. When you are ready to use the dough, move it to the fridge and let it thaw for about 24 hours. Then roll the dough and cut out your cookies!
You can also make your sour cream cookie dough, roll it and cut all your shapes. Freeze the cookie shapes on a sheet tray and then move them to a freezer bag or freezer container once frozen. Anytime you'd like to bake the cookies, simply place the frozen shapes on a sheet tray and bake as directed! The cookies will only take about 1 minute more to bake from frozen.
Baked Cookies- If you want to freeze your cookies after they have been baked, you definitely can! Let the baked cookies cool completely and then place them in a freezer bag and freeze. The cookies will stay fresh for about 3 months. Defrost them at room temperature and then ice them. You want to ice the cookies after freezing for the best results.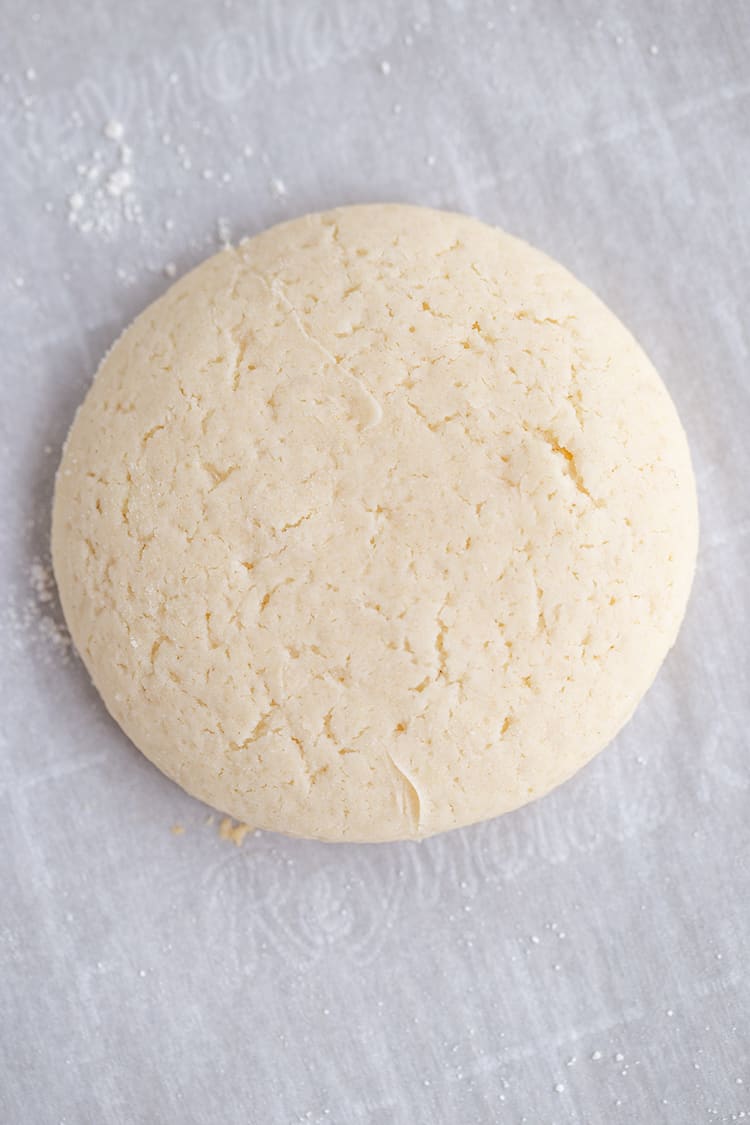 FAQ's
Here are a few questions that many people may have about this sugar cookie recipe with sour cream. Hopefully the answers help you to make some perfect, tender cut out sugar cookies!
Do I need to chill this sour cream sugar cookie dough?
You don't necessarily need to chill this dough first, but it does make cutting out the cookies so much easier. You will need to be very generous with the flour whether it's chilled or not.
What can I substitute for sour cream in sugar cookies?
If you do not have sour cream on hand, there are a few things you can use in its place. Thick, Greek yogurt is a good option as well as creme fraiche which is another kind of thickened cream. Both of these options can be used at a 1 to 1 ratio, using the same amount as the sour cream in the recipe.
You can also use buttermilk but only use half of the quantity of buttermilk (so ½ cup buttermilk in place of 1 cup sour cream in this recipe). All of these substitutions will work well, still giving your soft, tangy cookies.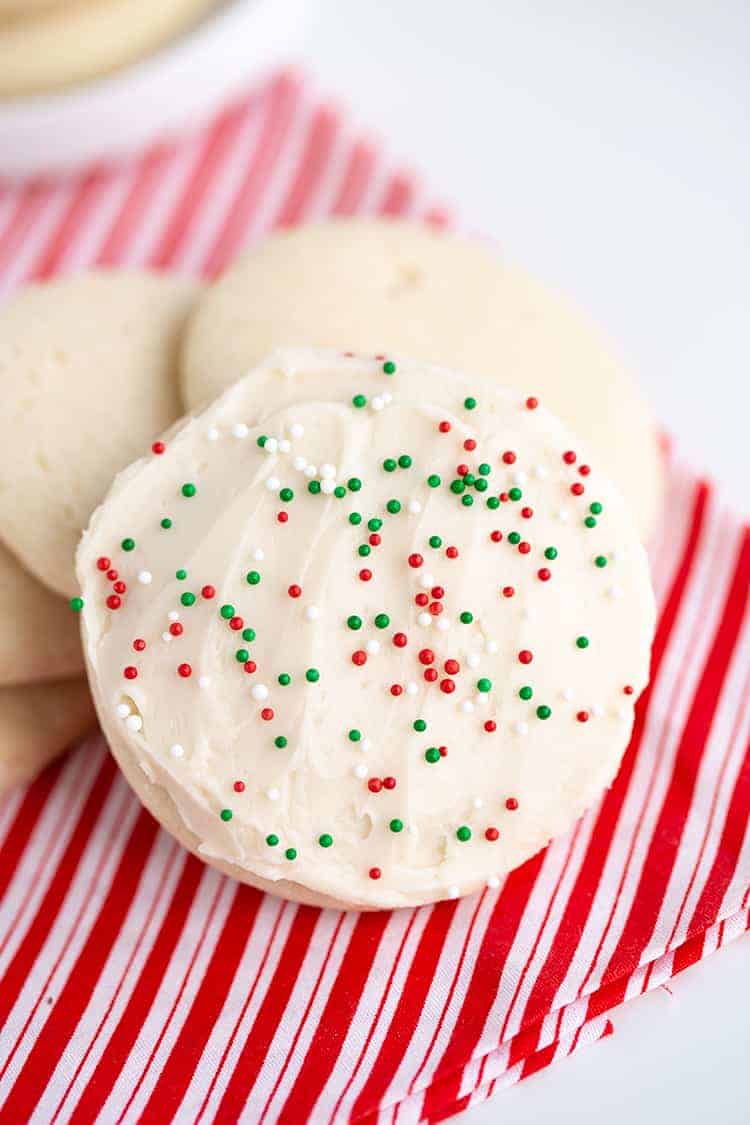 Do I have to use full fat sour cream?
We recommend using full fat sour cream for two reasons. First, the more fat, the softer thes cookies will be. Secondly, full fat sour cream is thicker than the low fat versions and will help make your dough firm and easier to roll. If you have to use low fat sour cream, only use ¾ of a cup as it has a much thinner consistency.
Do I have to frost these cookies?
This soft sugar cookie recipe with sour cream will taste delicious even without frosting. Try adding ½ teaspoon of cinnamon to the dough or just sprinkling some holiday sprinkles on top before you bake the cookies. They can be dunked in melted chocolate or just enjoyed plain! This recipe is versatile and amazing no matter how you decorate them.
We hope that you love our soft sugar cookie recipe with sour cream. A nice, buttery sugar cookie is definitely necessary especially at christmas time. Show us some pictures of your cookies after you bake them!
Shop this post: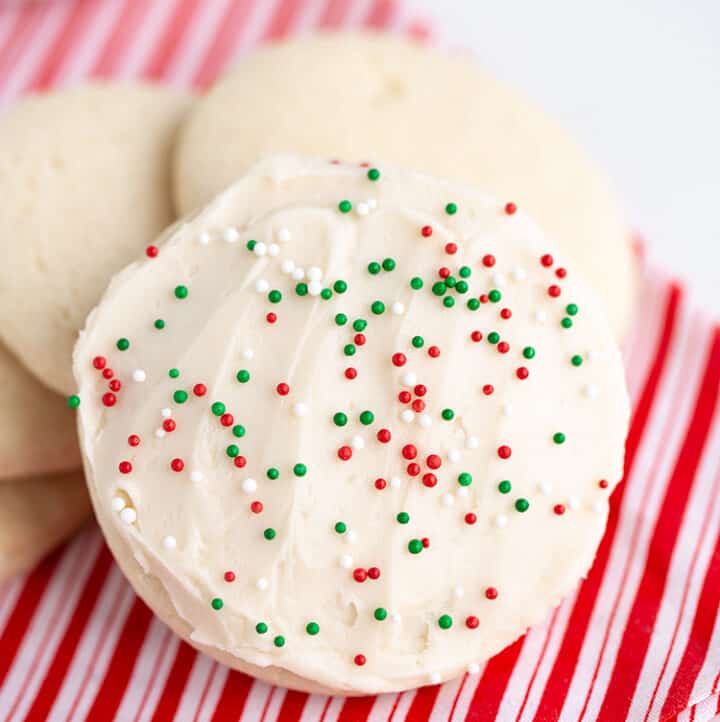 Sour Cream Sugar Cookies
These Sour Cream Sugar Cookies are sweet, tangy, fluffy, and great for holidays.
Ingredients
Cookies
1

cup

butter

room temperature

1 ¾

cups

granulated sugar

1

cup

full fat sour cream

room temperature

2

large eggs

2

teaspoons

vanilla extract or vanilla bean paste

5

cups

all-purpose flour

½

teaspoon

baking soda

2

teaspoons

baking powder

½

teaspoon

salt
Frosting
3

cups

butter

room temperature

8

cups

powdered sugar

2

teaspoons

vanilla extract

3 -5

tablespoons

milk

Gel food color

Festive sprinkles
Instructions
Cookies
Preheat the oven to 350 degrees F. Line a baking sheet with parchment paper.

Add the butter and granulated sugar to a large mixing bowl. Beat with a hand mixer on medium until creamed.

Beat in the sour cream until combined.

Add in the eggs and vanilla extract. Beat until combined.

Add in the flour, baking soda, baking powder, and salt. Beat just until the flour is incorporated. The dough will be sticky.

Divide the dough in half and place in plastic wrap to chill for 1 to 2 hours. This isn't necessary but makes the dough more manageable. You can also sandwich the sugar cookie dough between two pieces of parchment paper and roll it out to ¼ inch thickness. Slide a baking sheet under the parchment paper and move it to the fridge.

Add the dough to a well-floured surface and dust the top of the dough with flour. Roll out to ¼ inch thickness. If you rolled your dough out between two pieces of parchment paper, skip the flour and cut them out while sitting on the piece of parchment paper.

Coat the cookie cutters in flour and cut out the cookies, making sure to dip the cutters back in flour after each use.

Place the cut-out sugar cookies on the prepared baking sheet about 2 inches apart.

Place in the preheated oven and bake for 10 to 12 minutes until puffy. It's okay if the edges aren't brown all. If the center looks raw or wet, bake longer until it's puffy and the same pale white color as the edges.

Let cool for 5 to 10 minutes on the baking sheet before moving to a wire rack or paper towel to cool completely.

Store in an airtight container at room temperature for up to 3 days or in the fridge up to 7 days.
Frosting
Beat the butter, 4 cups of powdered sugar, vanilla extract, and milk in a large mixing bowl.

Gradually beat in the 4 remaining cups of powdered sugar until the frosting is light and fluffy.

Add in 3 to 4 drops of gel food coloring.

Frost the cooled cookies and add sprinkles.
Notes
If you find the dough too sticky, you can add up to an additional ½ cup of flour into the recipe.
Use simple shaped cookie cutters for this dough, because it will stick in crevices of more detailed cutters.
Nutrition
Calories:
353
kcal
Carbohydrates:
44
g
Protein:
2
g
Fat:
19
g
Saturated Fat:
12
g
Cholesterol:
59
mg
Sodium:
208
mg
Potassium:
52
mg
Fiber:
1
g
Sugar:
32
g
Vitamin A:
600
IU
Vitamin C:
1
mg
Calcium:
23
mg
Iron:
1
mg
(Nutrition facts are an estimate and not guaranteed to be accurate. Please see a registered dietitian for special diet advice.)