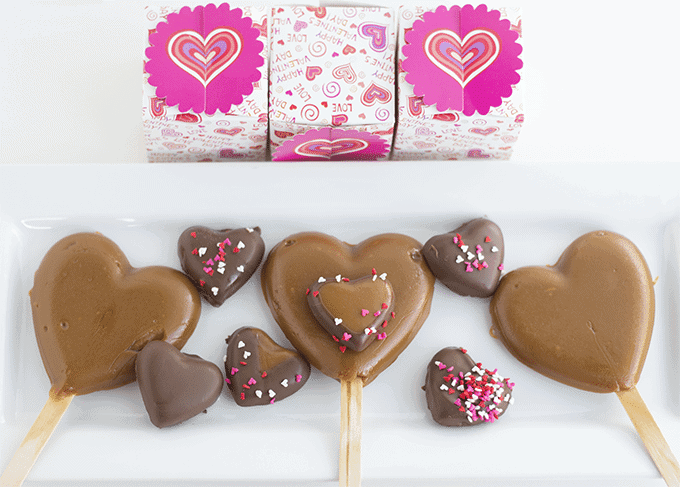 I love the excuse to use hearts. It seems I have a ton of heart shaped pans. What's a girl to do with all of them? Oh, make caramels with them? Okay!
Valentine's day is only a few days away and this is the perfect sweet for your love. Unfortunately, my love has sensitive teeth and prefers not to eat caramels. It's a perfect treat for yourself too. A nice treat to put yourself in a sugar coma. I can feel mine coming on shortly.
Look at how smooth these little guys are? I love how dark and rich the caramel is. It has a creamy texture. It's pretty much the perfect little caramel, if you like soft and chewy that is. They're much softer than a sugar daddy from what I remember anyway. I love a sugar daddy, but they always make me drool and nearly pull my teeth out. I like my teeth.
This gigantic caramel heart is gone now. I ate it as soon as I finished my pictures. It was crunchy, chocolaty, and now gone. BOOO! 🙁
Do you see how big that caramel pop is in comparison to that sweet little Valentine's box? I should feel ashamed I ate it all without even taking a breather. I. Don't.
I found these little boxes at the Dollar General. They are so petite and festive. I couldn't resist them. I even found a use for them. Normally I just buy the stuff and hoard it. I'm a hoarder. I need to go to a hoarder's anonymous. I had to look up how to spell anonymous. I added one too many N's. Okay, ramblingggg.
Soft Caramels
Soft and chewy caramels. They're great wrapped in chocolate. Smooth, creamy, and rich. Give them a try!
Ingredients
¼

cup

salted butter

, cubed

¾

cup

dark brown sugar

, packed

½

cup

light corn syrup

14

oz.

sweetened condensed milk
Chocolate
2

squares chocolate almond bark

2

tsp.

shortening

, butter flavored

Sprinkles to garnish
Instructions
Grease a 8x8 pan with cooking spray. I used a pan with 12 small hearts.

In a large saucepan, add in the butter, brown sugar, corn syrup, and sweetened condensed milk. Place it over medium heat and stir the ingredients with a spatula.

Once the mixture comes up to a boil, place a candy thermometer on the side of the pan. Continue stirring so the mixture doesn't burn.

Once the caramel comes up to 250 degrees, turn off the heat and spoon the caramel into the pan. Let the caramel cool.

In a microwave safe bowl, place the chocolate and shortening. Microwave for 30 second intervals until the chocolate and shortening is melted. Stir after each interval. It took a minute for mine.

Dip the cooled caramels into the chocolate and tap off the extra chocolate. Place on a piece of parchment paper to dry and add some decorative sprinkles.

They can stick together if they're not covered in chocolate, so be careful not to layer them.
Nutrition
Calories:
120
kcal
Carbohydrates:
21
g
Protein:
1
g
Fat:
3
g
Saturated Fat:
2
g
Cholesterol:
10
mg
Sodium:
44
mg
Potassium:
70
mg
Sugar:
21
g
Vitamin A:
105
IU
Vitamin C:
0.4
mg
Calcium:
54
mg
Iron:
0.1
mg
(Nutrition facts are an estimate and not guaranteed to be accurate. Please see a registered dietitian for special diet advice.)
You can find the heart shaped pan on amazon. Right there.
How does everyone pronounce caramel? Is it cair-uh-mel or car-mel? I say cair-uh-mel!
Cookie Dough and Oven Mitt is a participant in the Amazon Services LLC Associates Program, an affiliate advertising program designed to provide a means for sites to earn advertising fees by advertising and linking to Amazon.com