This red hot applesauce is bright red and packed full of cinnamon flavor! It's such a quick and easy fall recipe to make. The recipe works great with any apple! Who knew applesauce could be so pretty and tasty? Want more red hot apple recipes? Check out this recipe for Red Hot Crock Pot Apple Crisp.
Red Hot Applesauce
I love cinnamon! Big red gum, fireballs, red hots, I love them all. My mouth.. well, my tongue hates cinnamon. It will become sore, feel super swollen and stiff. It's okay though. I power through it. I'm a go-getter. I can just be very stubborn.
My 7-year-old also loves cinnamon but, lucky for him, he doesn't get an annoying irritation from the cinnamon candy. This applesauce is gorgeous. It's fire red like the candies. It's sweet and loaded up with red hot candies. Lucian and I can take down an entire jar of this in one sitting. He normally sports red stains on his face and tummy afterward. Yes, the applesauce is that vibrant in color.
I also think that this applesauce would taste outstanding in a cake. You know how cakes sometimes call for applesauce instead of oil, this applesauce would be phenomenal. Keep an eye out for an applesauce cake recipe in the future! It just may be happening.
How do you make red hot apple?
It's really probably one of the easiest recipes you'll make. Begin from peeling, coring, and slicing some apples. Toss them in a large saucepan. Add in the sugar, red hot candies (or cinnamon imperials), and apple juice. Sounds simple so far right?
Stir everything together the pot. Let it simmer on low heat until the apples start to break down and the red hot candies are melted.
This is what you can expect it to look like. Let the red hot applesauce cool for about 30 minutes. That gives the sliced apples time to absorb some of the juices.
Pour the apples into a food processor or food mill and pulse until the red hot applesauce is smooth.
Lastly, you'll want to pour it into a bowl and place it in the fridge to chill. I don't know about you, but hot applesauce just doesn't do it for me.
How to can red hot applesauce
Sterilize your lids, rims, and jars.
Prepare red hot applesauce according to the recipe.
Fill your jars with the red hot applesauce leaving ½'' of headspace. Use a sterilized butterknife to run on the inside of the jar to remove any air bubbles.
Wipe the jar rims clean.
Process in your hot water bath canner for 20 minutes (for altitudes less than 1,000 ft). Adjust cooking time for your altitude, if necessary. For more information, visit this site
Store in a cool, dark place for up to 1 year.
This red hot applesauce is super smooth. If you prefer it a little chunkier, feel free not to process it in the food processor for as long as I did. A few pulses in the food processor would do the trick. We just prefer ours really smooth.
More dessert recipes using red hot candies
Frequently Asked Questions
Can this red hot applesauce recipe be made in the crockpot? Yes! Cook on low for 7 to 8 hours or on high for 3 to 4 hours. If you want a smooth applesauce, run it through the food processor or food mill.
Can I reduce the amount of red hot candies in this applesauce? Yes! Feel free to play with the amount of candies that you add into this red hot applesauce.
What's the best apple to use for this red hot applesauce recipe? I think this recipe is pretty flexible. If you want some tartness, use a granny smith apple.
If you have some apples that are getting old and slightly wrinkly, this is the perfect recipe to use them in. The cinnamon lovers in your family will thank you!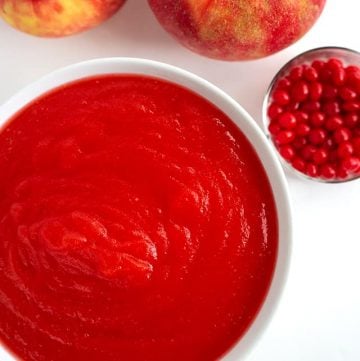 Red Hot Applesauce
This red hot applesauce is bright red and packed full of cinnamon flavor!
Ingredients
5

Apples

cored, peeled, & sliced

½

cup

apple juice

6

oz

Red Hots Cinnamon Candies

¼

cup

granulated sugar
Instructions
Place all of the ingredients into a large saucepan. Stir to get the sugar mixed in. Turn the heat onto medium and place a lid on the saucepan.

Let it boil until the apples become very soft and the candies are completely melted, about 25 minutes.

Once the apples are very soft and the candies are melted, remove from the heat and let cool for about 30 minutes.

Place the apple mixture into a food processor and process on high until the applesauce is super smooth. If you prefer a chunkier applesauce, only pulse the mixture a few times to the desired consistency.

Place in a quart jar and refrigerate until chilled.
Notes
I've used Honeycrisp apples and Gala.
You can substitute the apple juice for water.
Nutrition
Calories:
1324
kcal
Carbohydrates:
349
g
Protein:
2
g
Fat:
1
g
Sodium:
14
mg
Potassium:
1098
mg
Fiber:
21
g
Sugar:
296
g
Vitamin A:
490
IU
Vitamin C:
43
mg
Calcium:
55
mg
Iron:
1.1
mg
(Nutrition facts are an estimate and not guaranteed to be accurate. Please see a registered dietitian for special diet advice.)
This recipe was originally posted on November 14, 2014.