This Pizza Mountain Pie recipe is filled with gooey mozzarella, pizza sauce, and pepperoni and toasted to perfection. These campfire pies are made with a cast iron mountain pie maker and toasted over some hot coals. They're the best treat after a long day of camping. The outside of the pie is crunchy and butter and the inside has all of the fixings of a gooey cheese and pepperoni pizza. If you're looking for a sweet version, check out my cherry mountain pie recipe!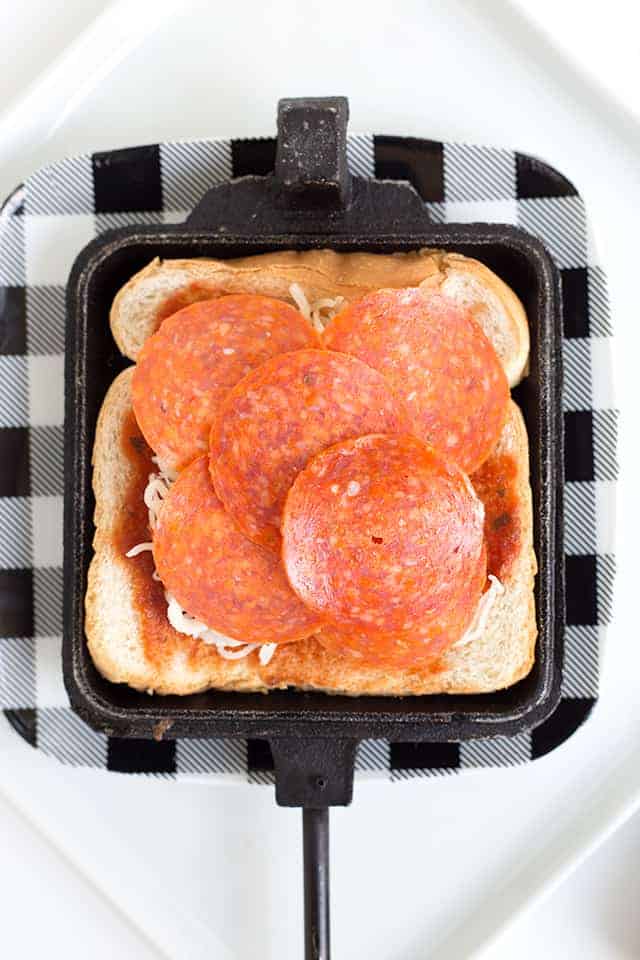 Since I was a little girl, we always had mountain pies when we went camping. It was one of my very favorite things to eat. The other one that was and still is probably number one on my list is pasta salad. We also had that while camping. So yeah, camping was and still is pretty much the best thing on earth.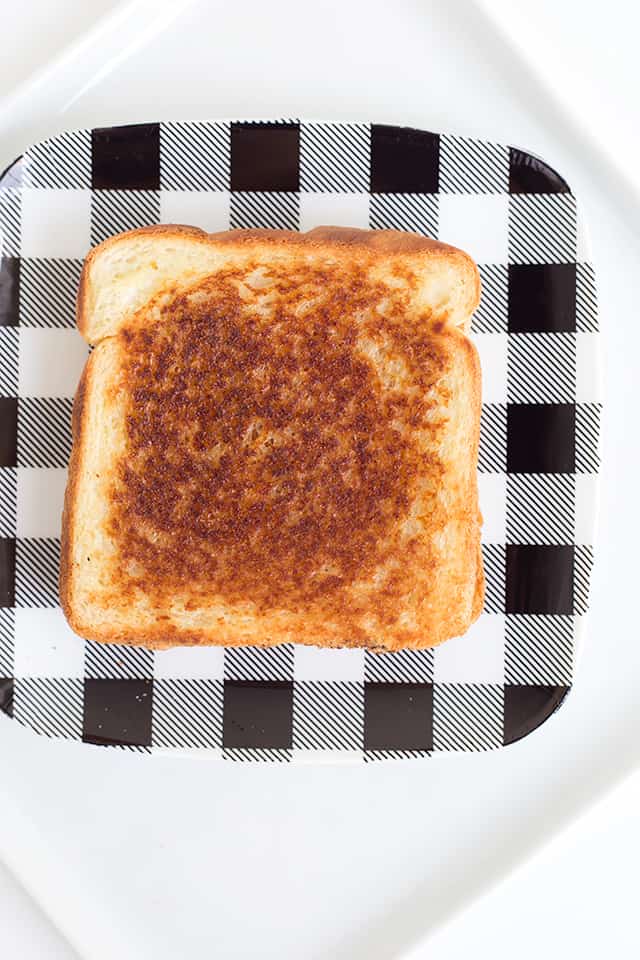 What is a Mountain Pie?
Mountain pies are kind of like a tastier version of a grilled cheese sandwich. They don't have to be savory though. They can be stuffed with your favorite pizza filling, pie filling, or any other filling that will taste great between two slices of buttered bread. You can use oil, or cooking spray instead of butter if you must.
Mountain Pies are also called hobo pies, camper pies, and campfire pies. Regardless of what they're called, they'll always be baked in a cast iron mountain pie iron.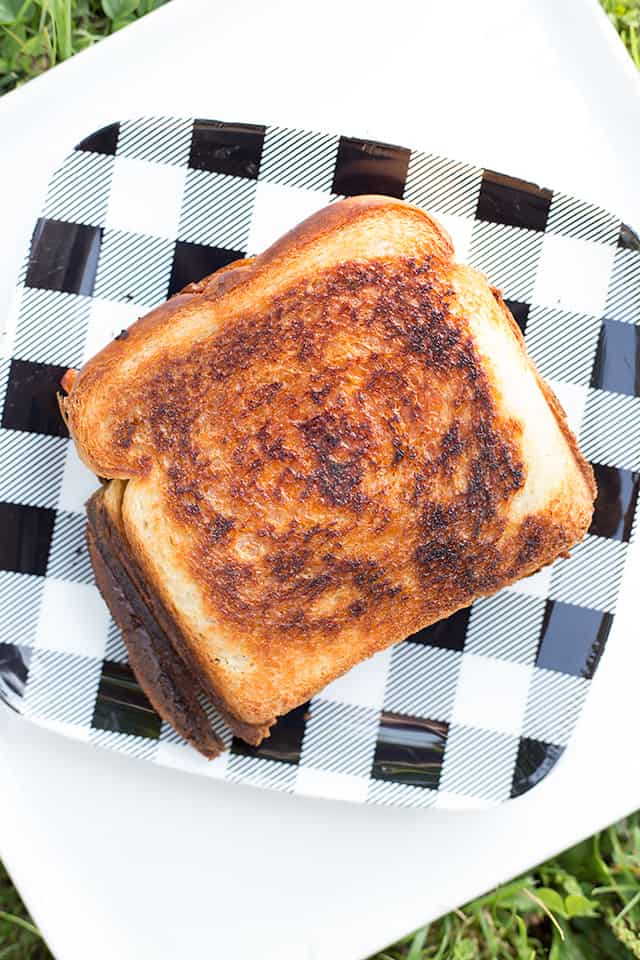 First I should probably show you my mountain pie maker.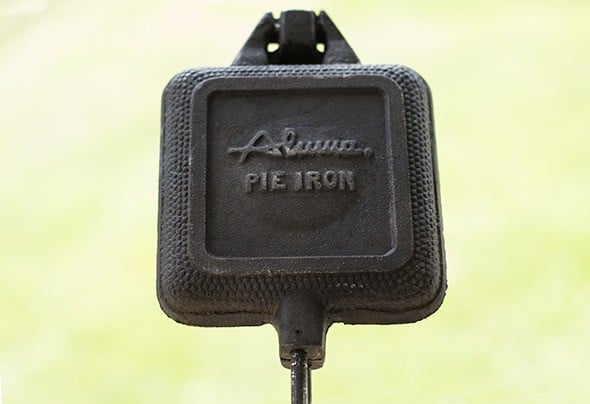 There it is, a nice long-handled pie iron. I've come across some round mountain pie makers, but they never really made sense to me. My bread is always square(ish) so I don't have a use for a round one. There are also double mountain pie makers that have two squares. This would be great if you have more than one kiddo or a whole group of people that want a mountain pie.
You can find the square, round, and double mountain pie makers on Amazon, but I think you can find them in most stores that carry camping supplies.
How do you clean a cast iron mountain pie maker?
Clean a mountain pie maker like you would any other cast iron. Wash it immediately after use, while it is still hot. Use very hot or even boiling water and brush. Let the iron soak for about 15 minutes before scrubbing. After washing, dry the iron thoroughly. That's all it takes unless it looks like it needs to be seasoned.
To season the mountain pie maker, heat up the grill or a stovetop burner and place the pie iron on the heat to dry completely and warm up the iron. Then spray lightly with a vegetable oil cooking spray and spread it evenly with a paper towel. You can also add some vegetable oil to a paper towel and rub it evenly on the iron instead of using cooking spray. Place the mountain pie maker back on the grill or stovetop burner over a low flame for 10-15 minutes or until they appear dry. Let the iron cool before storing.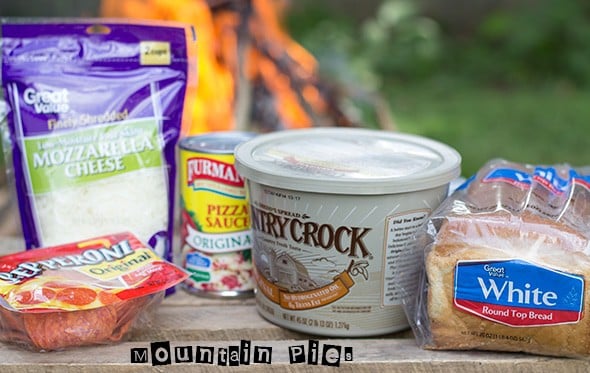 Pizza Mountain Pie Ingredients
You will also want to pick up these ingredients and have a big blazing fire in the background. I would recommend letting the fire die down a bit before sticking your pie iron in the fire, otherwise, you might have a black, charred pizza mountain pie.
sandwich bread - It doesn't matter if you use white, wheat, or any other kind of bread. Just make sure it's square(ish) so it fits in the iron.
butter - You can use butter, margarine as pictured above, cooking spray, or oil. I prefer butter for its flavor, but the others will toast the mountain pie perfectly and keep it from sticking.
pizza sauce - use your favorite kind or be like me and grab whatever you have on hand.
mozzarella - You can slice it or just grab a bag of shredded. I'll leave that up to you.
pepperoni - Substitute the pepperoni for any other meaty pizza toppings that you like.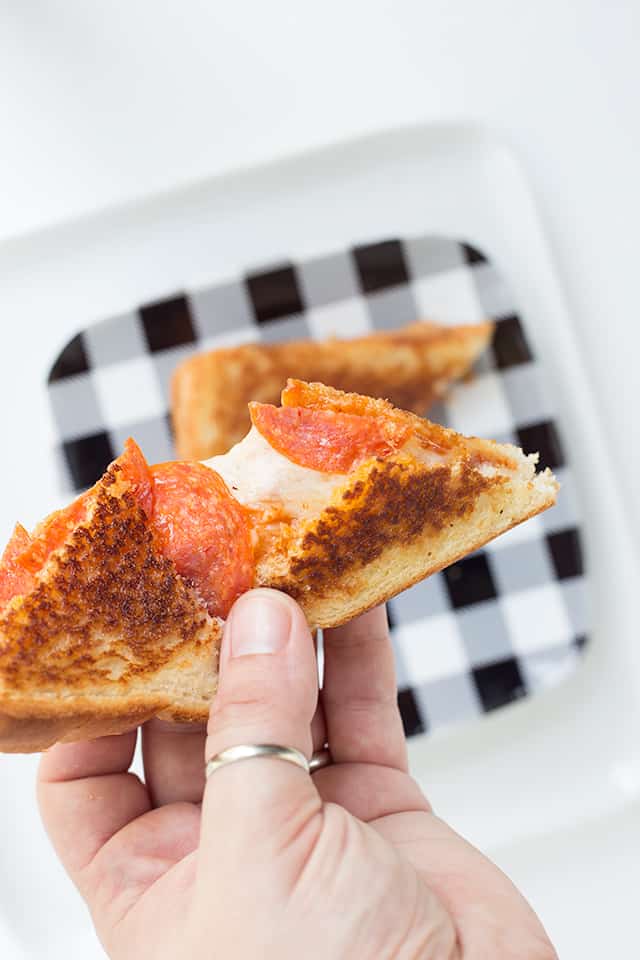 How to make Mountain Pies
Here is my super professional way of making the mountain pies.
Have a cleaned pie iron open and ready.
Spread an even layer of butter or margarine on one side of two pieces of bread.
Place the bread butter side down into the mountain pie maker.
Layer the fillings on top of the bread being careful to not get too close to the edges of the bread.
Add the second piece of bread butter side up.
Add the top of the pie iron and clip it shut.
Cook over coals and not the flames.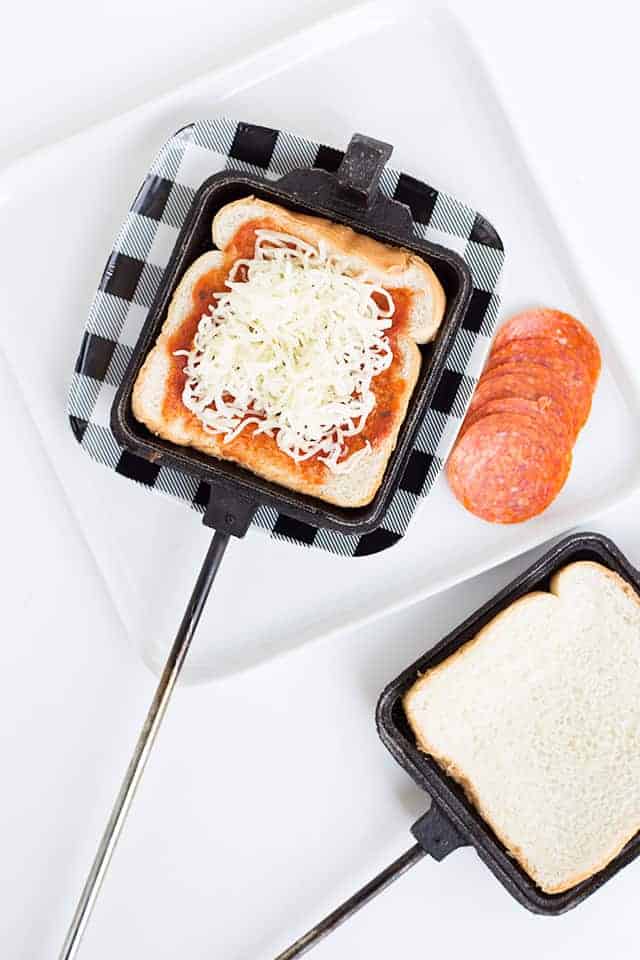 PRO TIP: Let me just warn you, be patient and let the mountain pies cool. They will burn the heck out of you if you take a huge bite right away. The mozzarella cheese and piping hot pizza sauce will get your every time. Trust me. Every. Single. Time.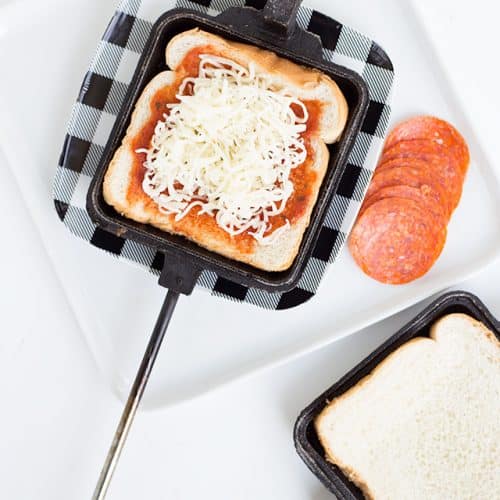 Pizza Mountain Pie
Ingredients
2

slices

bread

1

teaspoon

butter

1

tablespoon

pizza sauce

¼

cup

mozzarella

6-8

slices

pepperoni
Instructions
Butter one side of both slices of bread. Make sure you spread the butter to the edges so nothing sticks.

Place the buttered side of the bread down on the inside of the mountain pie maker.

Spread the pizza sauce on the slice of bread that's in the mountain pie maker.

Sprinkle mozzarella in the center of the bread and carefully spread it towards the edges. Leave a little space around the edges.

Add the slices of pepperoni on top of the cheese.

Place the other slice of buttered bread on top of the pepperoni with the butter side up.

Press the top of the pie iron down on the bread making sure all of the bread is stuffed inside the iron. Clip it shut.

Put the pie iron in the hot coals. Let it sit for about a minute and then open it up to check on it. This is the only way to know if you're burning your mountain pie. Once one side is golden, flip the pie iron over and brown the other side.

Pop the pie out of the pie iron onto a plate and let cool for at least 1 to 5 minutes.
Nutrition
Calories:
330
kcal
Carbohydrates:
28
g
Protein:
14
g
Fat:
17
g
Saturated Fat:
8
g
Cholesterol:
45
mg
Sodium:
717
mg
Potassium:
101
mg
Fiber:
2
g
Sugar:
3
g
Vitamin A:
315
IU
Calcium:
219
mg
Iron:
2.2
mg
(Nutrition facts are an estimate and not guaranteed to be accurate. Please see a registered dietitian for special diet advice.)
This recipe was originally posted Aug 13, 2014.