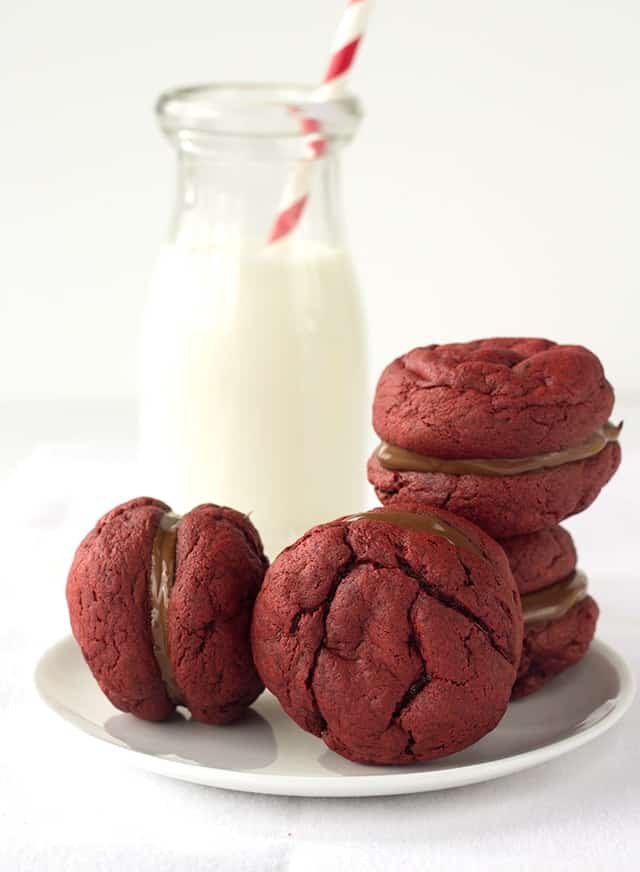 It's about time I get a little crazy with my red velvet. These nutella filled red velvet sandwich cookies are tasty little buggers. My husband will literally love any dessert with red velvet in the title. Since our anniversary and Valentine's day are all in the same month, I like to treat him and get a little crazy with red velvet.
A couple of years ago for our anniversary I made him a gorgeous red velvet cake with white chocolate frosting, this year it's going to be a variety of sandwich cookies. I used a red velvet bakery emulsion for a touch of classic rich red velvet flavor and color. I grab it at my local Walmart, but amazon or any store that carries cake decorating supplies will likely have it. You can also just use a red gel food color for the color.
The cookie itself incorporates cream cheese which gives the cookies the best dense cake like texture. The cookie isn't overly sweet either. It would be perfect with a nutella or cream cheese frosting, but I opted to just slather some plain ol' nutella on instead. It was just less work honestly and I feel like you folks dig that at times. Not to mention, your nutella flavor isn't weakened with butter and powdered sugar this way. Insert thumbs up emoji.
Okay, this is a little off topic from what I was just talking about but I have to share. I had asked my son what year he was born. He didn't really know so I just told him in hopes that it would stick in his cute little brain. Next he wanted to know when I was born. I told him the year and his reaction was priceless. He was in pure shock. "THAT WAS A LONG, LONG TIME AGO, MAMA." I couldn't help but laugh and say, "Yes Lucian, yes it was." Let me remind you that I'm only 30 which apparently is old enough to be at death's door according to a 5-year-old.
Kids. They are the best.
Nutella Filled Red Velvet Sandwich Cookies
Instructions
In a large mixing bowl, add in the butter and cream cheese. Mix together for about 1 minute until the butter and cream cheese are creamy and well blended.

Add in the brown sugar and beat until light and fluffy.

Add in the egg, vanilla extract, and red velvet emulsion. Mix until the egg is incorporated. Scrape down the sides of the bowl and give another mix with the hand mixer to combine any remaining egg.

Add in the flour, cocoa powder, baking soda, and salt. Beat on low with the hand mixer until the flour is mostly incorporated. Turn the hand mixer on medium and finish beating in the flour.

Cover with plastic wrap and at least 1 hour up to overnight. I went with overnight so I can bake my cookies in the morning.

Preheat oven to 350 degrees. Line a baking sheet with parchment paper.

Scoop the dough out with a small cookie scoop. The dough will be sticky.

Grease your hands with vegetable oil or some non-stick cooking spray. Roll the dough in your greased palms and place on the prepared baking sheet. They won't spread a ton. Add 6 balls of cookie dough to the sheep.

Place into the oven and bake for 11 minutes. They will be puffy when you pull them out of the oven but they will flatten some and crack. Let cool for 5 minutes and move to a cooling rack to finish cooling completely.

Add the nutella to a sandwich bag or disposable piping bag with a straight tip.

Pipe a layer of nutella on the bottom of one cookie. Place a cookie on top and repeat with remaining cookies.
Nutrition
Calories:
217
kcal
Carbohydrates:
24
g
Protein:
2
g
Fat:
12
g
Saturated Fat:
8
g
Cholesterol:
35
mg
Sodium:
180
mg
Potassium:
104
mg
Fiber:
1
g
Sugar:
17
g
Vitamin A:
310
IU
Calcium:
38
mg
Iron:
1.2
mg
(Nutrition facts are an estimate and not guaranteed to be accurate. Please see a registered dietitian for special diet advice.)
This post contains affiliate links. Cookie Dough and Oven Mitt is a participant in the Amazon Services LLC Associates Program, an affiliate advertising program designed to provide a means for sites to earn advertising fees by advertising and linking to Amazon.com.