This lemon olive oil cake is so moist and packed full of tart lemon flavor! A zesty, but sweet lemon cream cheese frosting is slathered on top of the olive oil cake to bring the cake altogether. There's no need to worry about bringing butter up to room temperature for this cake! Grab a bottle of olive oil and get to baking!
This is a sponsored post for HemisFares™ brand that is available exclusively at Kroger family of stores. All opinions are honest and 100% my own.

What is Olive Oil Cake?
Have you ever had an olive oil cake? It's basically a traditional cake that's made with olive oil instead of vegetable oil or melted butter. This lemon olive oil cake is fluffy, moist, and the recipe is so incredibly easy to make. I did quite a bit of testing before I was happy with it.
Can you taste olive oil in the cake?
Because olive oil is much stronger in flavor than oil typically used for cakes, I ended up using half olive oil and half vegetable oil. Although it does pair well with lemons, I didn't want the olive oil to overpower the lemon cake flavor.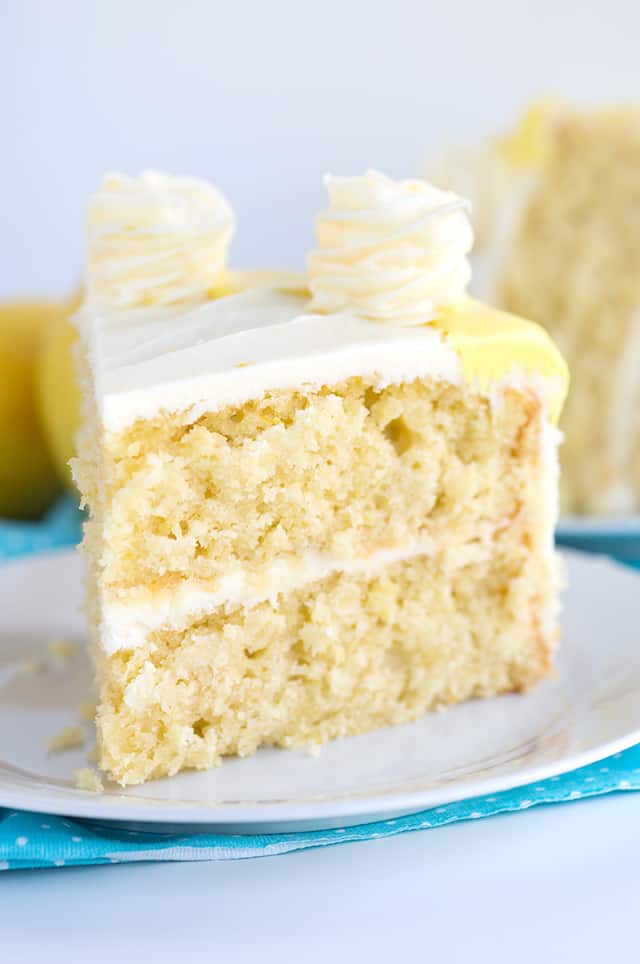 Tips for Making Lemon Olive Oil Cake
I initially created a three layer cake for this recipe, but didn't really love how thin the layers were going to be. The cake didn't have a lot of fluff to it with it being baked so thin AND cake is really easy to over-bake when it's thin. So do yourself a favor and just make a two layered lemon olive oil cake. Trust me, I tried it.
Another great tip is to make sure that you use freshly squeezed lemon juice. The juice will taste so much better coming out of an actual lemon than it will coming out of a plastic bottle. Plus, you'll need that lemon anyway for it's zest, in both the cake and the cream cheese frosting!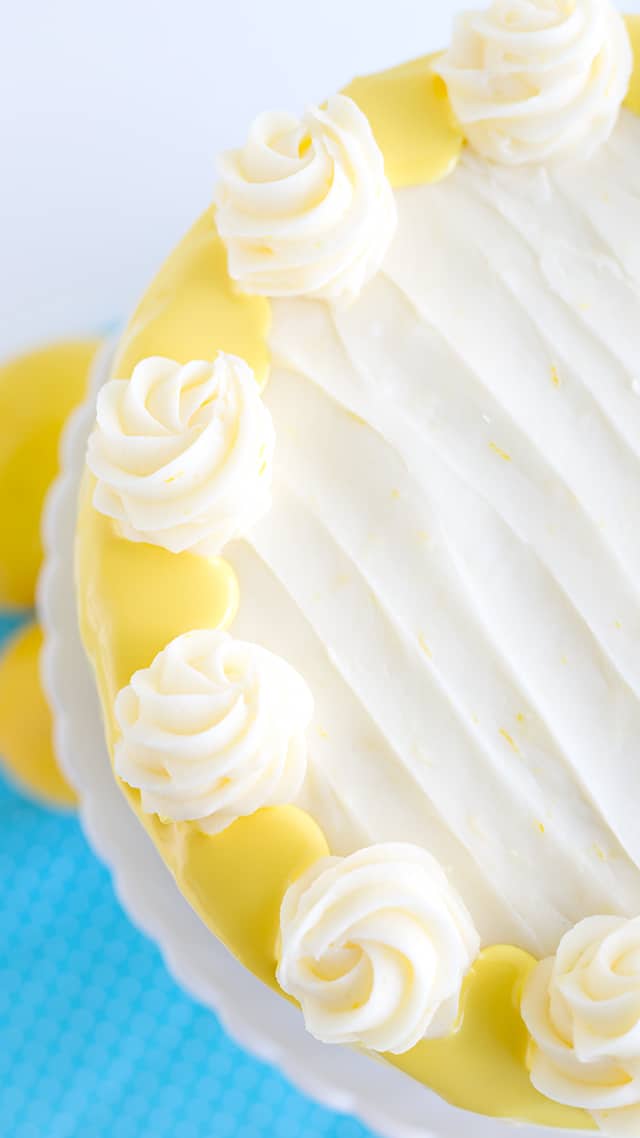 Have you ever tried to color melted white chocolate with traditional food coloring? I bet it seized up on you, right? Same here. I have even tried to add it with a little vegetable oil and it still seizes up on me and I don't color chocolate enough to have a reason to buy the oil based food colors for chocolate and candy. I'm sure I'm probably just doing something wrong, but either way that's not a concern with the beautiful yellow drip going down the side of this cake.
Ganaches are everything in my world. I would put ganache on a hot dog to pretty it up if I could get anyone to eat it. It's kind of my go-to. It can cover up any imperfections on the top of a cake, it can be an embellishment to the side of the cake (that drip though), and you can color it any color you want! LOVE! So yeah, you see ganache a lot from me and I've done it again for my drip on this lemon olive oil cake.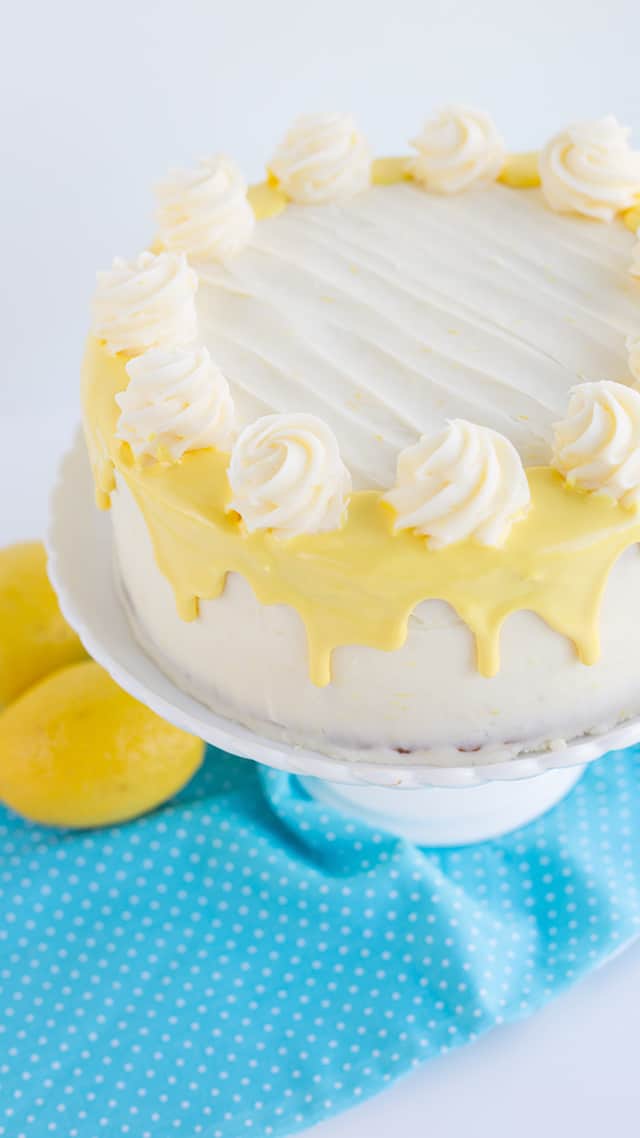 I decided not to add lemon to the ganache though. I figured I would probably be overdoing it. It's just plain white chocolate. You could add ¼ teaspoon of lemon extract IF you wanted. Or.. you don't even need to use the ganache. It's totally up to you.
Lemon Olive Oil Cake Recipe
Lemon Olive Oil Cake
Ingredients
Frosting
1

cup

butter

room temperature

8

oz.

brick cream cheese

room temperature

1

tsp.

lemon zest

2

T.

fresh lemon juice

1

tsp.

lemon extract

4

cups

powdered sugar
Ganache
1

cup

white chocolate chips

¼

cup

heavy cream

2 - 3

drops yellow gel paste food color
Instructions
Cake
Preheat oven to 325 degrees. Grease two 8 inch round pans and dust the pan with flour and tap out any extra into the garbage. Set aside.

In a medium bowl, add in the flour, baking powder, baking soda, and salt. Whisk to combine.

In a large mixing bowl, add in olive oil, vegetable oil, granulated sugar, eggs, lemon juice, lemon zest, buttermilk, vanilla extract, and lemon extract. Whisk until thoroughly incorporated.

Add the dry ingredients into the bowl with the wet. Using a hand mixer, beat just until the flour is worked in. The batter will be runny.

Divide the batter into the two prepared cake pans. Place into the oven and bake for 35 - 40 minutes until done. Insert a toothpick and if it comes out clean or with moist crumbs it's ready. Bake for a bit longer if you there's batter on the toothpick.

Let cool for 10 minutes and turn out onto a cooling rack to cool completely.
Frosting
In a medium mixing bowl, add in the butter and cream cheese. Beat with a hand mixer until until creamy. Work out all of the lumps before moving to the next step.

Add in the lemon zest, lemon juice, lemon extract, and powdered sugar. Beat on low until most of the powdered sugar is incorporated. Turn the mixer to medium/high and beat until light and fluffy.

Frost the cooled cakes. Add an even layer of frosting between the two cakes. Cover the outside of the cake with the frosting. Smooth out the frosting using a small offset spatula. Using the tip of the offset spatula, move your hand back and forth across the top of the cake to get the design I created.

Add the remaining frosting in a piping bag fitted with the 1M tip and pipe small swirls on the top of the cake.

Place the cake in the fridge to chill for about an hour.
Ganache
In a microwave-safe bowl, add in the white chocolate chips and heavy cream. Microwave for 30 seconds and stir. Repeat the 30 second intervals and stirring until the white chocolate chips are melted and the ganache is combined and smooth.

Add the yellow gel paste food color into the ganache and stir.

Let the ganache cool for 5 - 10 minutes until it's cool enough to handle.

Add the ganache into a sandwich bag or disposable piping bag. Cut a small hole in the corner of the sandwich bag or in the tip of the piping bag.

Pipe the ganache along the outer edge of the cake and around the swirls of frosting.

Cut and serve the cake.
Nutrition
Calories:
1261
kcal
Carbohydrates:
163
g
Protein:
14
g
Fat:
63
g
Saturated Fat:
34
g
Cholesterol:
162
mg
Sodium:
679
mg
Potassium:
334
mg
Fiber:
1
g
Sugar:
124
g
Vitamin A:
985
IU
Vitamin C:
6.8
mg
Calcium:
219
mg
Iron:
2.9
mg
(Nutrition facts are an estimate and not guaranteed to be accurate. Please see a registered dietitian for special diet advice.)