This Coffee Pudding is so creamy and sweet. Coffee fanatics will love it and it makes the perfect dessert! It's made with a strong brewed coffee too!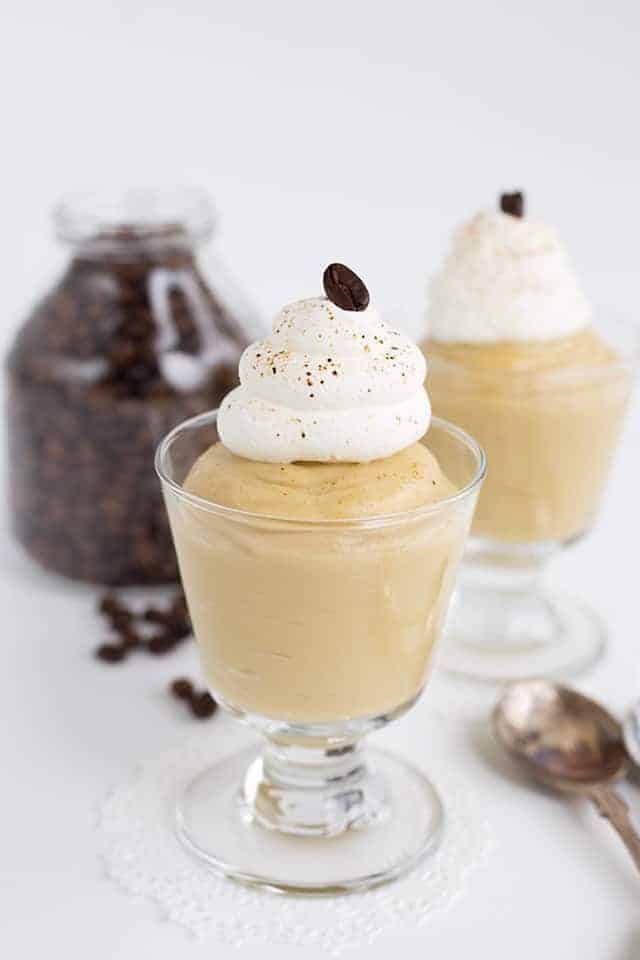 Coffee Pudding
I had originally thought of making a coffee cream puff and using my custard pudding to fill it. I tested it upwards to 15 times but just found that the cream puff recipe infused with coffee wasn't a reliable recipe. What was working the first time, I couldn't replicate the second or third time in testing.
I really, really wanted it to work too. I may have even pouted a little about it being a dud.
It's okay though. We still have this incredibly delicious coffee pudding.
Here's the thing with pudding in general. It likes to form a skin. To prevent that skin from forming, cover the top of the pudding with plastic wrap. I love the Reynolds KITCHENS® Quick Cut™ plastic wrap because it ensures a clean cut every thanks to the built-in slide cutter.
Has anyone else had the issue of pulling with all your might trying to cut the plastic wrap? Then once it's cut, it's a wadded up mess.
Story of my life.
They had to have me in mind when making the built-in-slide cutter. Just open the box and it's set up and ready for use. It doesn't require finding the end of the plastic wrap on the roll either. There's a built in grip strip™ that's sticky and grabs the plastic while you're cutting it.
Another thing that makes this handy is that there is a starting edge on the roll. You don't want to spin the roll around for 5 minutes. Woohoo!
Things you'll need:
medium saucepan
whisk (one that isn't going to destroy your saucepan)
fine mesh strainer
a use for 5 egg whites (French macarons perhaps?)
Brew a cup of your favorite coffee for this easy pudding recipe! If you're not fond of the flavor of the coffee, you're not going to be fond of the pudding either.
How to thicken pudding? This pudding uses cornstarch and egg yolks for thickeners. Once the mixture comes up to a boil, it will thicken quickly. Depending on how long it's cooked, will depend on how thick it gets. As the pudding cools, it will set up and become even thicker.
Why strain the pudding? I prefer to strain my pudding to ensure that it has a smooth consistency. Sometimes the bits of egg will cook in the pudding. Without straining the egg out, it's pretty likely you'll get a few chunks of cooked egg in your dessert.
I've also made a pretty popular almond pudding that you can check out too.
How to make coffee pudding:
Coffee Pudding
This Coffee Pudding is so creamy and sweet. Coffee fanatics will love it and it makes the perfect dessert! It's made with a strong brewed coffee too!
Ingredients
5

large

egg yolks

lightly beaten

1 ½

cups

whole milk

½

cup

freshly brewed strong coffee

¾

cup

granulated sugar

¼

cup

cornstarch

¼

tsp.

salt

3

T.

unsalted butter

cubed

whipped cream for garnish
Instructions
In a bowl, add in the lightly beaten yolks, whole milk, and coffee. Whisk to combine. Set aside.

In a medium saucepan, add the sugar, cornstarch, and salt. Whisk until combined. This will help prevent the cornstarch from clumping when liquid is added.

Add about ½ - ¾ cup of the milk/coffee mixture into the saucepan and whisk until smooth.

Add in the remaining milk/coffee mixture and butter. Whisk.

Place over medium heat and whisk pretty constant to prevent the pudding from sticking/ burning on the bottom of the pan and clumps forming.

Once the pudding comes up to a boil, let it boil for 1 minute while whisking constantly. The pudding should hold the lines from the whisk.

Place a fine mesh strainer on top of a bowl. Pour the pudding into the strainer and tap out the pudding. Avoid pushing the pudding through the strainer because the bits of eggs will push through too.

Place the plastic wrap on the surface of the pudding. Place in the fridge until it's set up. I leave mine overnight.

Stir the pudding before serving. Serve up and top with whipped cream.
Nutrition
Calories:
412
kcal
Carbohydrates:
66
g
Protein:
8
g
Fat:
12
g
Saturated Fat:
5
g
Cholesterol:
339
mg
Sodium:
228
mg
Potassium:
213
mg
Sugar:
56
g
Vitamin A:
655
IU
Calcium:
177
mg
Iron:
0.8
mg
(Nutrition facts are an estimate and not guaranteed to be accurate. Please see a registered dietitian for special diet advice.)