These apple cider snaps are perfect for Fall. They have crunchy edges, soft center, and great for dipping in some hot coffee! They're sort of like a ginger snap mixed with a molasses cookie and has a little apple cider thrown in. They're totally unique and taste AMAZING!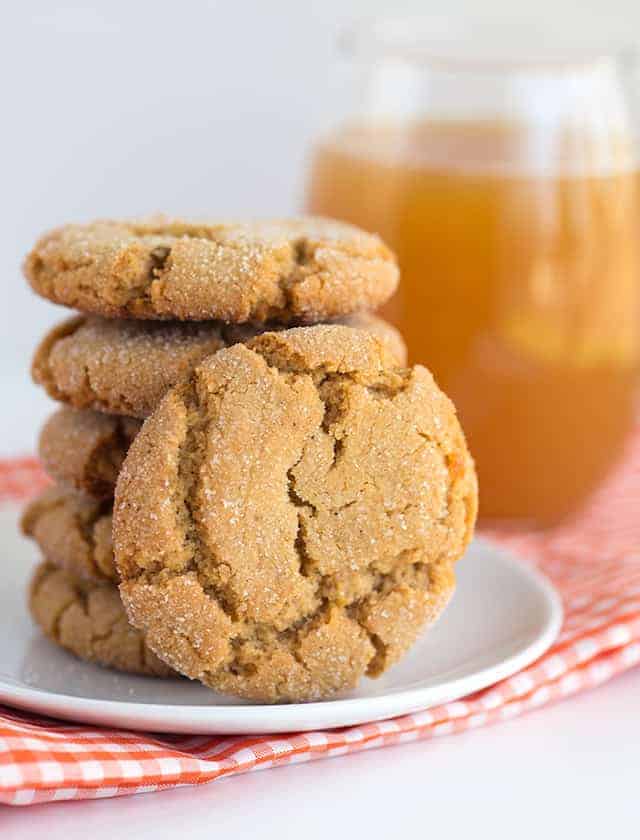 Apple Cider Snaps
For the creative cookie exchange, the theme was apples. I happened to have a half gallon of apple cider in the fridge. So, I went to work with writing down ideas and ingredients. Before I knew it, I had jotted down a recipe for apple cider snaps. To make my snaps, I had to make some apple cider molasses.
It was a timely recipe, but definitely worth it. These cookies are amazing and full of spicy apple flavor. They definitely shout fall. I love it.
My son has just started really enjoying apples. What a perfect time to do so too. I've only let him have a few sips of the apple cider because that could be a terrible mess, but I just introduced him to apples and peanut butter. Like myself, he found them heavenly. I came to this conclusion by the loud MMMMMM after every bite he takes. Gosh, he is so cute.
I love the cracked look of these cookies. They have a great snap to them but are also chewy. They are a beautiful golden brown color and coated with a dusting of sugar before they are baked. Seriously, you have to put the time in and make these. Also, did them in some coffee. I'm in love.
What is Apple Molasses (apple cider molasses)
For me, it's apple cider that's been cooked down into a thick, syrupy molasses. It can really take some time and patience to get it to the molasses consistency. So if you're wondering about boiled apple cider, it turns into a molasses. The apple flavor gets super intense which is great because you don't have to worry about added a large amount to the cookie recipe and making it runny.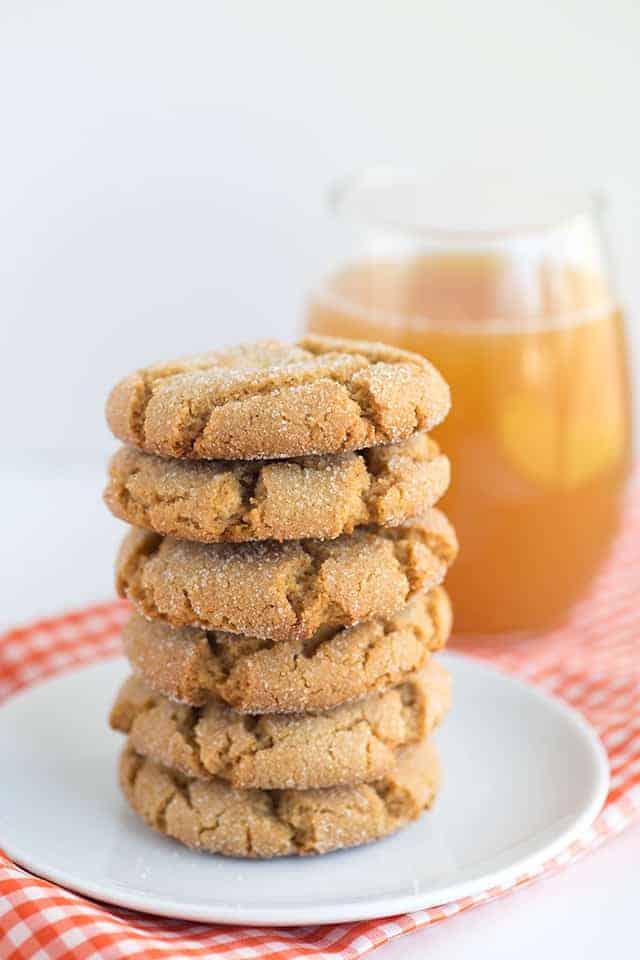 Apple Molasses Recipe
So my apple molasses recipe comes out to make the perfect amount for this apple cider snap cookie recipe. You obviously don't need to make the cookie if you just want the molasses though.
To make apple molasses, start by adding 4 cups of apple cider to a saucepan and simmering it on low heat until it looks like molasses. If your heat is too high, you will probably end up with a scorched pan or rock hard molasses. Keep it low and slow. It doesn't really need a lot of hands-on until the last 30 or so minutes. Then stir pretty often until it looks about ⅓ of a cup.
If you plan on adding the apple molasses to the apple cider snaps, line a bowl or measuring cup with tin foil or plastic wrap. Spray with a cooking spray and pour the molasses in. Let it cool in the fridge. When you're ready to use it, just turn it out into the cookie dough and it releasing perfectly. There's no need to try to scrap the bowl for every last bit of apple molasses doing it this way.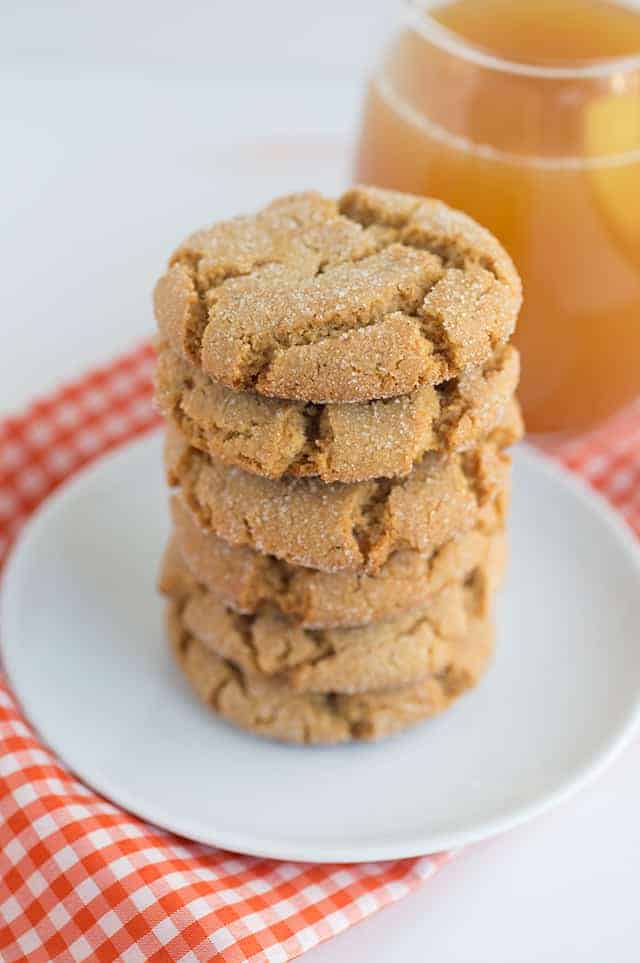 How to make Apple Cider Snaps
Apple Cider Snaps
Crunchy edges and soft center, these apple cider snaps are addicting! They are tangy, full of apple flavor, and have all the spices a molasses cookie should have!
Instructions
Apple Molasses
Place 4 cups of apple cider into a saucepan. Heat the cider to a boil over medium/high heat. Once the cider comes up to a boil, reduce heat to medium/low. Let the cider simmer until it reduces to a thick molasses. Mine took 3 - 4 hours to cook down. It doesn't need much attention until the last half an hour when the cider has cooked down substantially. Then stir often to avoid burning. Just cook it down to ⅓ of a cup and let it sit at room temperature as you prepare the cookie dough.
Apple Cider Snaps
Preheat oven to 350 degrees. Line cookie sheet with parchment paper.

In a large bowl, add in vegetable oil, brown and granulated sugar. Mix on medium until combined. Add in the eggs and cider molasses and mix on medium until incorporated.

In a separate bowl, sift all the dry ingredients. Pour them into the wet mixture and mix on low until combined.

Scoop the dough and roll into the ¼ cup granulated sugar. Place on cookie sheet. Space them 2" apart. I only had 6 scoops on my cookie sheet.

Bake for 14 minutes until golden brown. Let them cool on the baking pan about 5 minutes before trying to move them with a spatula onto a cooling rack. Move to the cooling rack and let them finish cooling.
Nutrition
Calories:
218
kcal
Carbohydrates:
36
g
Protein:
2
g
Fat:
7
g
Saturated Fat:
6
g
Cholesterol:
10
mg
Sodium:
132
mg
Potassium:
146
mg
Sugar:
22
g
Vitamin A:
15
IU
Calcium:
32
mg
Iron:
1.3
mg
(Nutrition facts are an estimate and not guaranteed to be accurate. Please see a registered dietitian for special diet advice.)
This recipe was first posted October 15, 2013.